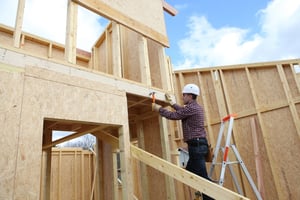 If you buy a lot with the goal of building your dream home in CT, you'll quickly discover a lot of factors to consider when developing plans. With so many different aspects to the project, it's easy to overlook something important. Here are a few tips to help you build the ideal home to suit your specific lot.
1. Consider Direction
One of the first components to think about is which way your house faces. You'll probably be limited on which direction to place your front door. However, the placement of individual rooms will allow you more freedom.
Think about your own preferences. For instance, you may want to see the sun shining in your master bedroom when you first wake up, or you might prefer to sleep in. Choose the direction windows will face – either to the sunrise or away from it – to suit your personality.
2. Consider Size and Shape
The size and shape of the lot will determine the size and shape of your home. You'll have to follow any zoning regulations about how far from the boundary lines the exterior walls can be. Additionally, a long, narrow lot will be better suited to a ranch-style or two-story home, while a wider lot may accommodate a Cape Cod or other style with a larger footprint.
If you need to have more rooms on a small lot, you may need to build a home with multiple stories or a finished basement. When planning the design, consider any future plans, such as having children or increasing the size of your family.
3. Consider Good and Bad Views
Think about the best view from your property. Then, find the worst view or which direction looks onto your neighbors. When planning the layout, you'll want to think about the views from the rooms where you spend most of your time.
Sounds and external noises will also impact your future home. If you live close to a park or business, you'll want to place your bedroom away from the noise. Think about when these places are likely to be at their busiest and how that will impact your life. Some businesses that will have major noise at different times include:
Nightclubs and bars
Schools
Shopping centers
Industrial areas
Don't forget to consider future construction, especially if you're in a new suburb or development. Lots that are empty today may be bustling with activity and noise in a few weeks or months. While the work is only temporary, it can impact your quality of life – and your sleep – for several weeks. Then, you will have to deal with the permanent noise that comes with having neighbors.
All of these considerations will have to be planned for in conjunction with any zoning or building codes and regulations. It's far better to take time in the planning stages to think about your design than to be required to put in change orders once the building project is under way. With these tips and a little foresight, you can create the perfect dream home on your chosen lot.