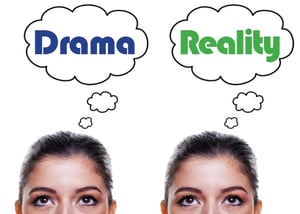 You may enjoy watching homebuilding or home remodeling shows on television. They can be pretty entertaining. But do they give you a realistic idea of how the homebuilding process really works?
We've been building custom homes in the Connecticut area for more than 30 years, and we know it's an exciting time for homeowners. As exciting as this era is, there is generally far less drama involved in homebuilding than what you sometimes see on TV. And we mean that in a good way.
Homebuilding shows on television are designed to hold your interest and keep you watching. They're also created so that problems can be wrapped up by the end of the show. For us, homebuilding in the real world is a bit different.
Whether you're looking to build a new home or remodel your existing CT home, we'll help you start off with good information that eliminates a lot of the drama people associate with homebuilding right up front. It can start with a simple 10-minute, no obligation phone consultation, in which you'll get desgin trend ideas, learn what other people in your situation are doing and get answers to your questions and concerns. You may even come away with a budget range so that you'll have a good grasp of whether or not your ideas are feasible.
Once you have some solid information at your disposal, you can dig in to more detail. If you want to build, we suggest zeroing in on specific communities and floor plans to find the perfect place and design for the home you're planning. If a remodel is in order, you may want to gather more specific information about the particular part of your home you plan to renovate, such as your kitchen or your bathroom. The point is, you won't be forced into making decisions "before the next commercial break." A reputable builder knows you need adequate time to gather and process information.
Television homebuilding and remodeling shows also tend to focus on the "agonizing" decisions homeowners have to make. Again, TV is all about entertainment and often doesn't give you the full picture. Will you have to make decisions and choices when you build a custom home or remodel your home? Of course! But a good builder will make sure you understand your options before you decide—including how they impact your schedule and your budget.
After the decision-making process, you get to relax a little bit and let the contractor do his or her job. You don't need to be present—looking over the shoulder of your builder—while construction is going on. In fact, most builders would prefer to operate without your immediate supervision. It's easier on them and on you! Here's a helpful post about what your actual responsibility is during the building or remodeling process.
If you want drama, kick off your shoes and watch some television (even a homebuilding show, if you like)! But if you want to create your dream home, contact a reputable builder, get the information you need, review it, ask quesitons and then let your builder do his or her job!