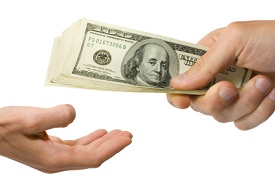 This is probably the number one question we get from people in the Nutmeg State who are considering renovating or remodeling their homes. It's an important and straightforward question, but the answer, naturally, depends on exactly what you plan to do when you remodel. Even after you've nailed down exactly what you want to accomplish with your renovation project—and have a solid quote for the cost—you need to address another, equally important question: what should you spend?
The National Association of the Remodeling Industry has come up with four steps that will help you calculate what you can really afford to spend remodeling your home. We've summarized those four steps here.
1. Figure out how long you plan to remain in your current home. If your plan is to stay where you are for ten or more years, it makes sense for you to create the home you really want. If that's the case you can think about spending as much as you are able to create the home of your dreams. But if you're planning to move in the next one to five years, you'll want to avoid over-building. Don't put yourself in a position in which yours is the highest priced home in the neighborhood. One way to guard against that is to review neighborhood real estate prices regularly so that you can keep your home (with improvements) in line with the average home prices in your area. It can be tough to recoup improvement costs if you over-spend on improvements and end up with a house that's out of character with the rest of the neighborhood.
2. Make sure you understand your current financial situation. Make a list of all debts—including payments you make on a monthly basis (mortgages, car loans, credit cards, or any other items with a fixed monthly payment). This list is your monthly expenses. Create a separate list of monthly expenses for things such as utilities, telephone services, groceries, or other general expenses.
3. Calculate your total gross monthly income. You should include any sources of income that you would list on a loan application.
4. Make a budget. The worksheet below will help you decide how much you can afford to pay for your remodeling project on a monthly basis. (We're assuming you will be financing your remodeling project, rather than paying cash.)
Budget Worksheet
This worksheet uses the same simple debt-to-income (DTI) ratio that lenders use to determine if a homeowner can afford to take on a loan. You can use it to decide if you can afford the additional expense of a remodeling project.
Establish Your DTI
Enter Your Total Monthly Expenses $ _________________ (see step 2 above)
Add the Estimated Monthly Payment for the Remodeling $______________
Estimated Total Monthly Payments = $ _________________
Divide the Total by Your Gross Monthly Income $ _______________
Your DTI % = ___________________
Each lender will approve loans at a specific DTI percentage (most lenders will tell you what their set DTI ratio is, if you ask). For example, if your lender accepts a DTI ratio of 45 percent and your DTI ratio is 30 percent, your loan would be approved. Your lender may also offer debt consolidation loans to reduce your DTI ratio.
Decide What Your Maximum Monthly Payment Should Be
You can determine your maximum affordable monthly payment by multiplying your monthly gross income amount by the lender's maximum DTI allowance. Then subtract your current total monthly expenses, excluding the estimated remodeling payment. Here's how that looks:
Gross Monthly Income $ ___________
Multiply by lender's DTI ratio: x __________
Subtotal = $ ____________
Subtract your total monthly expenses: -___________
Your maximum affordable monthly payment = $ ____________
If the last line is negative, you will not be able to borrow from that lender. See step 3 for further options.
Get Your Debt Consolidated
If your DTI ratio comes in above the lender's accepted percentage, or if your maximum affordable payment was too low to accomplish what you want, you might consider a debt consolidation loan. This will incorporate your current debts
into
your home improvement loan. In addition to allowing you to roll your debts into what may be a tax-deductible loan, it allows you to make one easy payment for your debts while lowering your DTI percentage. Another plus is that the interest rate on a debt consolidation loan may be lower, which will save you additional money. We recommend you talk to a qualified financial expert before making a move like this.