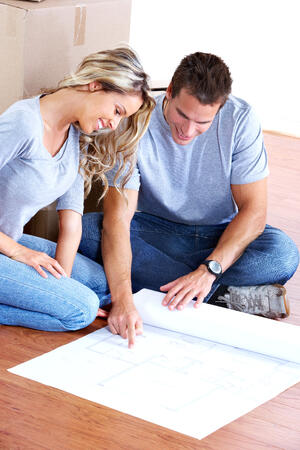 Remodeling a home isn't easy. Whether it's something small like changing the floor and fixtures of a powder room or swapping the carpet and paint in a growing child's bedroom or something major like a room addition or a kitchen remodel, there are large and small questions that every homeowner will—and must—both ask and answer.
Knowing these questions and being able to answer them correctly will simplify your project and improve the outcome dramatically. What are they? Let's start with the obvious.
1. Can you afford it?
Every homeowner would like to change something about his or her home. It's just part of living in a space and the appeal of home renovations is strong. A remodel can convert the irritants of daily life in a home into a blank canvas that can be filled in with anything we desire.
But that costs money and in most cases it costs money we don't have sitting handy in a Swiss bank account. So before slapping any paint on that seductive blank canvas, do the math and determine an affordable budget. Then stay within it, no matter how difficult that seems.
2. Will it add value?
While it's likely that many of us plan to stay in our homes a long time, it doesn't make sense to spend enormous amounts of money on improvements that won't add value to the place. That being the case, one part of the budget calculation needs to be whether or not a specific project will increase your home's value—and by how much.
Do your research, look at your renovation as an investment—not just a personal benefit—and when you calculate the cost of that investment, be sure to include whatever you expect to spend in interest on the money you borrow.
3. Do you want it "Good, Better or Best"?
"Good, Better, Best" is the terminology that home improvement retailers have adopted for their product tiers. The terminology roughly translates as "cheap, good and expensive."
You need to know the level at which you hope to complete your remodel or else you'll run the risk of falling for upsells and exceeding your budget faster than you can say, "Oh, that's very nice."
4. Do you prefer traditional or contemporary?
Most of us remain blissfully ignorant of the technical details that separate one design school from another. But designers, salespeople and contractors will use this terminology liberally when you start talking about your project. Taking some time to familiarize yourself with concepts like "Art Deco" and "modern architecture" will help a lot when it comes time to discuss your preferences.
5. Are you going to do that yourself?
Thanks to the DIY revolution and the rise of big home improvement retailers like The Home Depot, it has become far easier and more common for homeowners with very little construction experience to take on renovation projects themselves.
Doing the job yourself will generally cut your budget by half, but if your answer to the above question is "yes," then you'd better spend some time in the How-To section of the Internet or your local library so you'll know what you're getting into ... and how to get out of it again!
6. Who is your contractor?
If you don't plan to do the work yourself, then you'll need someone—or an array of people—to do it for you.
Choosing a contractor might be the single most important decision of the entire remodeling process. A good one will more likely perform the job well and potentially within your budget, while a bad one can cost you thousands of dollars now and down the road.
My advice? Read those Internet reviews. Trust them. And go for the company that the data says will do the best job.