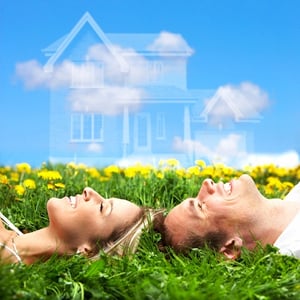 Some people have the ability to look at a set of floor plans for a new home and envision the home as it will be when it's done. We builders are kind of like that. Of course it helps that we've built a few hundred home from plans—so we know how things turn out.
For others, floor plans are great for getting a sense for how the different rooms in a home are laid out and for how the general flow of the home works.
And there are some people who look at floor plans and have the sense that it might be a great place for stick people to live—but they want to see something a little more realistic.
Floor plans are helpful if you want to get an idea of the relative size and location of rooms in a home. But for a lot of people it's hard to imagine what the view from the kitchen into the dining room or family room looks like. That's important both for understanding the flow of a home and for making decorating decisions.
Here's some good news for those who find floor plans a little "unfulfilling." You can actually take a virtual tour of some of our homes in Bridgewater. You won't have to imagine where the walls and doors are—or how the kitchen or family room is constructed. You'll be able to walk through the home and see it for yourself (all from the comfort of your easy chair or desk).
Rather than simply read about this, we invite you to click here to take a virtual tour through one of our Bridgewater Estates homes. Not only will you have a better idea about the flow of the home, but you'll also get a feel for the quality of construction you can expect.
If you'd like to look at photos of individual rooms, click here for more than 20 high-quality images of what one of these Bridgewater Estate homes can look like when it's completed.
You don't have to wonder what your new Connecticut home will look like. Now you can tour the inside of your potential home and see it for yourself!