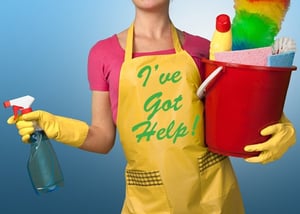 Everybody knows the importance of spring cleaning to keep your Connecticut home a healthy and happy place. But there are a few tips we discovered that you just may not have heard about that reveal some hidden helpers in your home that you may not have considered when it comes to spring cleaning.
You don't have to do all the hardwork of spring cleaning by hand. You may not realize it but you have a house-cleaning machine right in your kitchen. Yep! I'm talking about your dishwasher. Nobody ever said it could only clean dishes. Here are a few unconventional ways you can effectively use your dishwasher to take care of spring cleaning tasks.
Clean Your Cleaning Utensils: It's hard to get things in your house clean if your scrub brushes and sponges are gunky to begin with. Your sponges are a perfect place for bacteria and mold. Throw them in the dishwasher and use the "heated dry" setting get ride of bacteria and mold. Do the same thing with your scrub brushes. It's a lot nicer to clean when your utensils are clean themselves.
Your Stove's Exhaust Filter: Even in the cleanest of homes, these exhaust filters can look filthy. Heat, grease, and dust are a nasty combination to clean, but the combination of high temperature and a good detergent will get rid of that mess without any elbow grease on your part.
Glass Light Fixtures: If you have glass globes for some of your light fixtures, you know how hard it is to reach all the areas by hand. Your dishwasher can reach areas easily that you can't. Just make sure you place items securely and that they won't rub or knock against each other. If your dishwasher has a "gentle" cycle, you might want to use that.
Plastics: You probably have a bunch of plastic items around your home that collect dirt, dust, and grime such as hairbrushes, toothbrushes, cupholders from your car, soap dishes. You can even put plastic toys in the dishwasher. Just make sure they will stay in the top rack or the utensil basket. And it's a good idea to remove most of the hair from the hairbrushes so you don't clog your dishwasher's drain.
Your dishwasher isn't the only cleaning machine you have. If you have drapes, curtains, throw pillows, or sofa blankets that get dusty (even though they may not seem "dirty"), you can put them in your dryer for about 15 minutes or so on the "air-only" or "fluff" cycle. It will get the dust out. But make sure you hang these items up immediately after that so that they don't get wrinkled sitting in the dryer.
Here's one last cleaning helper that isn't even a machine—it's actually a fruit! If you have stained cutting boards you don't have to get rid of them. Cut a lemon in half and run the cut side of a lemon over the cutting board to remove food stains and odors. For really tough stains, sprinkle a little bit of salt or baking soda on the board first.
We all want clean homes in the spring, but that doesn't mean we have to wear ourselves out to achieve that objective. Unleash your hidden helpers and make spring-cleaning a bit easier this year!