One advantage to building a brand new home is that you can take advantage of the newest building techniques and the latest developments in building materials. That ensures quality, comfort, convenience, and value. It also means that you'll be looking at homes that offer the kind of features that today's homeowners really want. With that in mind, let's take a look at why Sunwood offers you the best new home features in Middletown.
What's On the Outside Matters, Too
The exterior of your new home can be just as important as what is inside. You want a home that looks great and will stand up to the elements. Sunwood homes feature:
Maintenance-free vinyl clapboard siding that looks great for years and protects your home
Architectural style roofing for a beautiful finish
• Covered front entrances that look great and provide protection for guests
• Pressure treated 12' x 14' rear decks that will weather the elements and provide years of enjoyment
Two-car attached garage with automatic door openers that provide convenience and safety
Luxurious Baths That Go Beyond the Basics
Your home's bathrooms are much more than utilitarian spaces. They are personal places of comfort for you and your guests. That's why our new baths include:
Maple master & main bath vanities with cultured marble countertops and integrated sinks that offer elegance and convenience
Pedestal sinks in powder rooms that add style and beauty
• 5-ft one-piece fiberglass showers in master baths and 5-ft one-piece fiberglass tubs/showers in hall bathrooms that look great and are easy to maintain
Elongated toilets that add a touch of class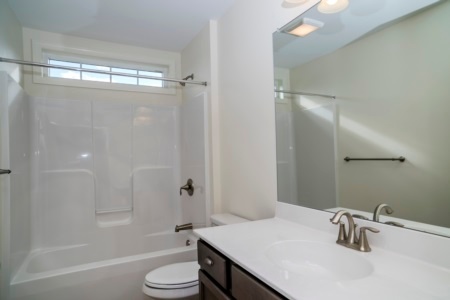 Comfortable, Convenient, and Beautiful Kitchens
Because today's kitchens fill so many roles, it's important to have a kitchen that's comfortable, convenient and has a style that will last. New Sunwood kitchens include:
Custom designed kitchens with islands, maples cabinets, and pantries for storage ensure that your kitchen will be a pleasure whether you're cooking or entertaining guests
Granite countertops with stainless steel under-mount sinks and pullout faucets look great and are easy to maintain
• GE stainless steel appliances offer a clean look that goes well with virtually any style and will provide years of reliable service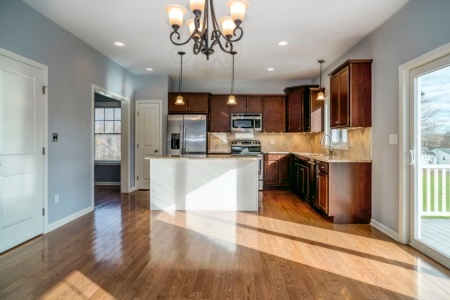 Fine Interior Finishes
The finishes in your home add that special touch that can really set your home apart—and make it more enjoyable for your family and your guests. Sunwood homes feature:
9' ceilings on the first floor that open up rooms and give your whole first level a more spacious feel
• Hardwood flooring in all main living areas that look great are easy to maintain and provide a warm, unifying design element
• Ceramic tile flooring in all bathrooms, drop zones and laundry rooms that are easy to maintain and add a touch of class
Designer lighting fixture packages that will help you light up your home for ambiance and functionality (an important element that a lot of homeowners tend to overlook)
• Plenty of closet space with vinyl coated wire shelving because you can never have too much closet or storage space
• 3 paint color choices that allow you to choose a hue that best suits your taste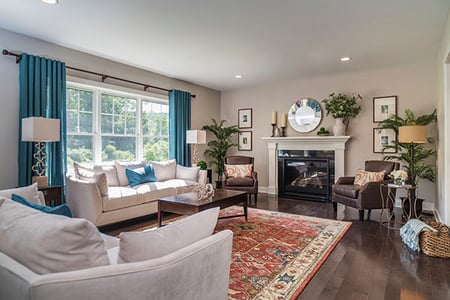 Comfort & Energy
There are some home features that can seem a bit boring but make a huge difference in your ability to be comfortable in your home. That's why we pay attention to the quality of features such as:
High-efficiency heating systems with central air conditioning (1 zone per floor) so that you stay comfortable all year long—without paying too much for utilities
Single-hung vinyl windows with low-E argon filled glass and screens that are easy to operate and keep cold air out in the winter and hot air out in the summer
• High-efficiency water heaters that allow you to enjoy plenty of hot water without breaking the bank
• Insulation: R-19 insulation in walls, R-38 insulation in attics, and R-30 basement ceiling insulation to keep your house comfortable all year round—without racking up high heating/cooling bills
Underground electric service (for homes on newly built roads) keep your utility connections out of sight so your home's exterior looks neat and clean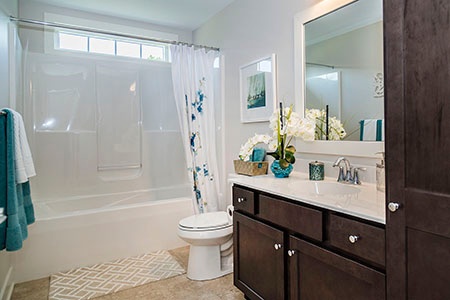 Private Yard
You won't spend all of your time inside your home. You'll want an outdoor area where you can relax and enjoy the views. Sunwood homes come with:
Landscaped lawns and front yard plantings that add a nice finished look to the exterior of your home
• Brushed concrete front walkway, steps and porch that look great and welcome guests to your home

Peace of Mind
Your home should be a place where you can relax and not worry. Sunwood offers an industry-leading two (2)-year home warranty that will put your mind at ease. It's also an indication of our confidence in the quality we've built into your new home—and that it will meet or exceed your expectations.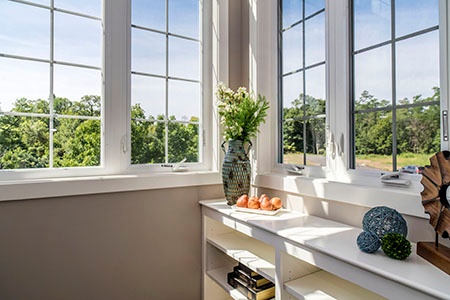 Where Can You Find Middletown Homes That Offer All of These Fantastic Features?
This fall Sunwood Development will be opening our newest community on Ridgewood Road in Middletown, Connecticut (located in the Westfield section of Middletown, CT) that will be built later this year. There will be 10 brand new single-family homes on approximately ½ acre sites. The plans for these homes will range from 1,800 to 2,600 square feet and be available in Colonial or Ranch style designs. Click here for updates and news on this new development.