Remodeling Success in CT: Make Communication Count
No one wants to experience the "remodeling horror stories" we've heard from acquaintances or the media. To make the most of your remodeling experience, it is important to understand that good communication with your remodeling contractor is the most reliable way to avoid that problem. Without good communication, headaches and hard feelings are all too common. By contrast, an open line of communication is the key ingredient to a successful and satisfying remodeling experience.
Shopping for a remodeling contractor is fundamentally different from shopping for a new house. When you shop for a new home, you can see the completed work and examine every detail. When you plan a remodeling project, you cannot be sure exactly how your existing house will be changed. That fact underscores the importance of diligently and patiently interviewing potential contractors and checking references before making your selection. You want to start your project with a level of comfort and confidence in the remodeling contractor who will be your partner in the process.
A contractor's way of presenting information during an initial phone call or interview is often an indication of how he or she will communicate during your project. A remodeler or staff member should seek your input and questions and provide understandable and satisfactory answers. Follow-up gestures, such as a thank you note or phone call, can be signs of quality communication.
Before and during your remodel you will have many decisions to make. Be sure you are comfortable with the remodeler's process for maintaining effective communication. Who is your contact person on the remodeler's staff? Many remodelers or their on-site superintendents (often call "leads") use a scheduled review, or "walk-through," of the remodeled section of your house at specified critical stages of construction. These walk-throughs can take place during structural framing, electrical and plumbing rough-in, or after the interior walls have been dry walled. As you select a remodeling contractor, ask about additional opportunities to communicate, such as ad-hoc meetings, phone calls or emails.
After you select your remodeler, you will find that a detailed scope of work -- outlining the construction process along with an agreed timeline or schedule -- provides a guide for your questions and expectations. The scope of work and schedule will also establish deadlines for key decisions on your part. Avoid hasty, last minute choices and contribute to the smooth progress of the prodect by making sure decision dates and deadlines are clear.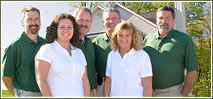 Sunwood Development Corp
273 North Colony Street, Suite 2
Wallingford, CT 06492
203.269.0325 begin_of_the_skype_highlighting 203.269.0325 end_of_the_skype_highlighting - Phone
203.265.3676 - Fax
Amy@SunwoodDevelopment.com
www.sunwooddevelopment.com