Constant Learning is a Big Part of the Custom Homebuilding Process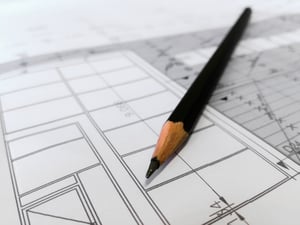 There are always new products and processes when it comes to custom home building. As a builder, we educate ourselves so that the options we offer you represent the latest and best in new materials, design, and technologies. Our intent is to make your decisions easier. That's why we were at the 2017 National Association of Home Builders International Builders' Show in Orlando. If I had to provide a general summary of what we learned at the show it would be that as builders we need to build homes according to how people want to live.
There are a lot of new innovations in the homebuilding process, including: thermal bridging, automated room-air comfort, behind-the-wall moisture barriers, and indoor-outdoor living retractable glass walls are just a few of the things that surfaced. And of course there are the constant fluctuations in whether the most popular design trends embrace transitional, modern, or traditional design. It's also clear that the building industry is in a constant state of rapid transformation.
Regardless of what the emerging trends and technologies are, what's important for you as a homeowner is to end up with a home that's designed around the way you live. Your needs and desires will be different from those of your neighbors. One solution simply won't meet everyone's needs. That's why we offer a wide variety of floor plansso that you can pick the one that best fits your lifestyle.
But before you even choose a floor plan, you want to figure out just what it is you want from your new home. That's why we encourage you to download our free Wallingford Custom Home Guide. This guide will help you reduce the financial and emotional risks associated with building your dream home by showing you:
How to plan your budget with practical tips and advice
The best way to choose a homebuilding team
Ideas on floor plans and designs that fit your family
What questions to ask
Negotiationtactics for your contract
We're always learning so that we can offer you the best materials, designs, building techniques, and innovations for your dream home. But we also want to help you learn what you need to know to ensure you end up with the home that fulfills your family's dreams!