7 Must-Have Features for Your CT New Home
When you begin planning for a new home in the Northford, CT area you probably pay a lot of attention to things like location, home style, and floor plans—which are all absolute essentials to making sure you'll end up with the home you really want. It's also one of the reasons we offer so many different options in both our Magnolia Ridge and Riverview Farms communities. But there is more to creating a dream home than just floor plans and location. Here's a look at 7 "must-have" features for your CT new home.
1. Beautiful On The Outside
You'll want your new home to be attractive and inviting from the outside. That view is the first thing you see when you return home every day and it should be something that makes you glad you're home. It's also the first thing that friends and guests will see when they visit. It's your home's first impression and you want it to be a welcoming impression. On a new home in Bridgewater or Royal Oaks, those features can include:
A covered front entrance

A 2-car garage (with opener) that offers a side-entry to the house

Maintenance-free vinyl clapboard siding that will look great for years

Optional cultured stone veneer accents

A beautiful 12' x 14' rear deck constructed from pressure-treated lumber

2. Comfortable and Stylish on the Inside
Of course you'll decorate in your own style, but it's greato have certain essentials in place before your do. Bridgewater and Royal Oaks homes offer:
9' first floor ceilings that add a sense of spaciousness

Hardwood flooring for all main living areas

Beautiful oak staircase

Ceramic tile flooring for bathrooms, drop zones and laundry rooms

Carpeting in all bedrooms and second-floor hallway

Gas fireplace with slate surround

Designer lighting

fixture package

Abundant closet space that includes vinyl coated wire shelving
3. Customized Kitchens
Your kitchen reflects your personality, and today's open plan designs put your kitchen on display for family and friends alike. That's why we offer custom-designed kitchens with:
An island

Maple cabinets and pantry for storage

Granite countertops with stainless steel under mount sinks, and a pullout faucet

Stainless steel GE appliances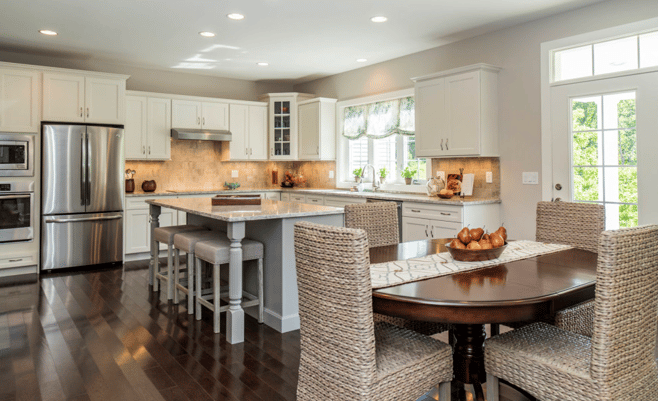 4. Beautiful Bathrooms
You want you Master bathroom to be comfortable and convenient, with a touch of elegance. And you want your main bath(s) to be warm and inviting because that's one room most guests will see. To make that happen, our homes feature:
Maple master and main bath vanities that include cultured marble countertops and integrated sinks

A pedestal sink in the powder room

A tiled shower with fiberglass base in the Master bathroom

A one-piece fiberglass tub/shower combo in the hall bathroom
5. Improved Comfort & Energy Efficiency
There was a time when "going green" meant expensive options and limited comfort. Not anymore! Now, in addition to saving energy (and lowering your utility bill) your home can be more comfortable than ever. We build in features such as:
High-efficiency, propane gas, forced warm air heat with central air conditioning that service one zone per floor

Single hung vinyl windows with low-E argon filled glass and exterior screens for fresh air

A 40-gallon propane water heater

Plenty of Insulation(R-19 for exterior walls, R-38 rating for the attic, and R-30 rated insulation for the basement ceiling
6. Finishing Touches For Your Yard
A new home sitting on a dirt lot isn't very appealing. Your house doesn't look finished until your yard is in. You can enjoy:
The privacy of your own yard

A landscaped lawn plus yard plantings in the front yard

A brushed concrete front walkway, steps and porch
7. Peace of Mind
It's easy for a brand new home to look great, but what will things be like down the road? Sunwood offers an industry-leading 2-year home warranty that will give you the peace of mind to enjoy the new home of your dreams.
Here's a helpful post about how to manage "information overload" when you're planning a new custom home. It can help you make sure that you cover all your bases when it comes to those "must-have" features for your new home.