Choosing the Right Floor Plan—How Needs Can Evolve Over Time
Chances are that when you begin planning to build a new home in the Wallingford, Connecticut area that you have a pretty good idea of the kind of home you want. If you like to entertain, you may want a floor plan that gives you a larger kitchen with easy access to a family room. If your entertaining style is a little more formal, you may want a plan that offers you a separate, formal dining room.
It's also likely that the choices you make when it comes to design are based on your current tastes, activities, and overall family needs. That's great, but what about considerations for what your needs will be down the road a few years?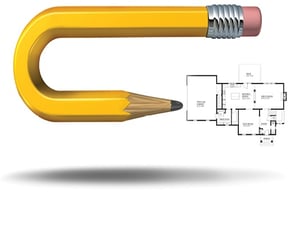 The fact is that most homebuyers spend a fairly long time in the homes they buy. A study by the National Association of Homebuilders (NAHB) showed that in the period from 1987 through 2011 the average buyer expected to stay in a home for 13 years. What's really interesting, however, is that in the last three years of that study, the average had increased to 17 years.
The point is that a floor plan that meets your needs now may not meet your needs in 13 or 17 years. On top of that, there are some societal trends that are affecting the way that individuals look at their homes. An increasing number of aging Americans are opting to stay in their homes rather than move to retirement communities. According to the Pew Research Center, in 2016 a record 60.6 million Americans (19 percent of the U.S. population) now live in multi-generational homes.
In some cases families are bringing their aging parents into their homes to live with them. In other cases, adult children are returning home after college until they can launch out on their own.
Regardless of the reasons, today's floor plans often need to be able to accommodate different—or changing needs. That's what's behind a number of the plans Sunwood Development offers today. Here's a look a just a few of the plans we offer that can help you plan for the future when building your new Connecticut home today.
Our Totoket Grand home offers more than 3,500 square feet of climate-controlled space that works well for residents of varying ages. It includes a large garage with direct access to the basement, a large covered porch area and deck area and 1,785 square feet of finish-able basement area for future expansion. Plus it offers a study/guest room on the first level for mature residents who don't want to deal with stairs.
The Linsley Grand model is geared toward homeowners looking for elegant single-level living. Everything a family or couple might want is available on a single floor. There are three bedrooms (including a Master Suite) and plenty of room for family living—with no need to be concerned about access or mobility down the road.
The Harrison Grand is a home designed for today, tomorrow and for years down the road, with four bedrooms, 2-½ baths, a private first floor master suite (with an oversized bathroom and dual walk-in closets). There's a dramatic, light-filled, 2-story great room for family gatherings. There's also privacy for children and guests with bedrooms located on the second floor.
It may be impossible to predict exactly what your needs will be down the road. Still you can be pretty confident that your home needs years from now will be different than what they are now. These plans allow you the flexibility to enjoy the comfort and convenience of your new Connecticut home now—and for years to come.