How Much Does it Cost to Remodel Your Bathroom in Connecticut?
It's great to visit sites such as houzz.com or bhg.com to "window shop" for ideas when you're thinking about remodeling the bathroom in your Central Connecticut home. Maybe your goal is to make your bathroom bigger and better. Perhaps you're just looking for an update.
Or it could be that you want to make some changes to your existing home so you can remain in your home longer. But at some point, you'll ask the question everybody asks: "What is this going to cost me?" So, how much does it cost to remodel your bathroom in Connecticut?
I'm sure you won't be surprised that there's not one answer that applies across the board. There are a lot of different elements in the remodeling process that can impact the final cost of remodeling your bathroom. The scope of the project makes a huge difference. If you're expanding the size of the room, or if you're adding completely new fixtures, that will impact the cost.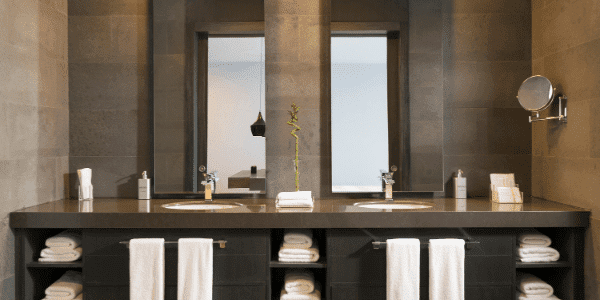 The kind of materials you choose can also significantly affect the price. For instance, marble slab countertops cost considerably more than Formica counters. A custom shower or unusual tub will cost more than "builder-grade" items.
Still, it's helpful to have some kind of baseline pricing before launching a significant remodeling project. One problem with looking at online sites for inspiration is that there are often no costs associated with the projects you see. What should you expect to pay? What's a realistic budget for a comparable project in your area?
Here is some basic cost information for two different types of bathroom renovations in Hartford, CT as compiled in the Remodeling 2020 Cost vs. Value Report (www.costvsvalue.com). First of all, let's define out two projects so that we have a point of reference.
A Midrange Bathroom Remodel


Update an existing
5x7-foot bathroom. Replace all fix
tures to include 30x60-inch porcelain-on-steel tub with 4x4-inch ceramic tile surround; new single-lever temperature and pressure-balanced shower control; standard white toilet; solid-surface vanity counter with integral sink; recessed medicine cabinet wit
h light; ceramic tile
fl
oor; vinyl wallpaper.
The typical cost for this kind of project in Hartford would be $21,350. The data suggest that a homeowner will recoup 56.2 percent of that expense when the house is resold.
An Upscale Bathroom Remodel


Expand existing 35-square-foot bathroom to 100 s
quare
f
eet
within existing
house footprint. Relocate all fi
xtures. Include 42x42-inch neo-angle shower with ceramic tile walls with accent strip, rec
essed shower caddy, body-spray fix
tures, and frameless glas
s enclosure. Include freestanding soaker tub with high-end faucets; stone countertop with two sinks; two mirrored medicine cabinets with lighting; a compartmentalized commode area with one-piece toilet; and a humidistat-controlled exhaust fan. Use all colo
r
fi
xtures. Use
larger matching ceramic tiles on the
fl
oor, laid on diagonal
with ceramic tile base molding.
Add general and spot lighting
including waterproof shower fi
xture. Cabinetry shall include a custom drawer base and wall cabinets. Extend HVAC s
yst
em, and include electric in-fl
oor heating.
The typical cost for this kind of project in Hartford would be $65,896. The data suggest that a homeowner will recoup 39.4 percent of that expense when the house is resold.
As mentioned above, that cost can be impacted by the kinds of finishes and materials used in the project. And of course, the size of the room makes a difference as well. But at least these examples provide you a basis for comparison when it comes time to get a bid.
Naturally, everything hinges on the plan you make for your improved bathroom. That's why so much of the hard work of a remodeling project takes place before anyone brings out the hammers and saws. Correspondingly, your budget and what you actually spend will depend on what you really want.
© 2020 Hanley Wood Media Inc. Complete data from the Remodeling 2020 Cost vs. Value Report can be downloaded free at www.costvsvalue.com