4 Design Ideas for Your Master Bathroom
One of the most important rooms in your home is one that your guests may never see. And yet, it can have a huge impact on your life at home. We're talking about your master bathroom. Whether you're building a new Connecticut home, or remodeling your existing home, this room deserves some special attention. Here are a few design ideas that can make that most private of rooms in your house truly special.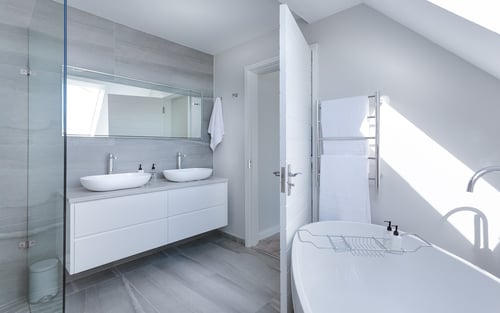 1. Separate Sinks for Less Stress
There's a lot to be said for togetherness, but in the master bathroom, it can lose its luster quickly. Your master bath should be a calm place for getting ready for the day, or to wind things down at night. When two adults have to share a single sink at the beginning or the end of the day, it's just not nearly as relaxing. Talk to your builder about including enough space (or creating it in the case of a remodel) to accommodate twin sinks. What about when it's time to choose the countertops for your new sink and cabinets?
2. Hidden Storage
Your bathroom closet and cabinets aren't the only place you can store towels and other bathroom items. By recessing your vanity (between studs, for instance) you can create additional storage space without infringing on the space above your sink. Another increasingly popular trend is to create open space above your cabinets for towels and other items that you might want to show off.
Related: Smart Storage Options to Double Your Space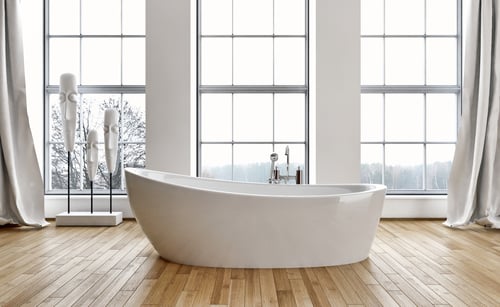 3. Soak Tub or Shower
For many people that may seem like a "no-brainer." Of course, a bathroom will have a bathtub. But what people want from their master bathroom has changed over time. There has been a strong trend toward creating luxurious bathrooms with large soaking tubs. Those relaxing and soothing tubs are still quite popular with a lot of people, but there's also been a more recent move toward larger showers (including steam showers) that use less water. And in some homes, owners are opting to eliminate the bathtub altogether.
If you allow enough space in your design, you may be able to accommodate both options. The trend, however, is toward larger walk-in showers that often include multiple heads and built in seats. Not only do these larger showers look great, but a step-in shower with a place to sit will serve you well in the future if you plan to stay in your home for the long haul—something the American Association of Retired Persons says that nearly 90 percent of Americans over 55 plan to do.
How does that impact the resale value of a home? Real estate agents agree to disagree on this topic. Some feel that a master bathroom without a bath makes the home harder to sell. Others claim that owners now are more interested in oversized showers and don't really care about the tub (whether it's a spa-like tub or a conventional tub). And there are yet others who say it's a moot point as long as there is a tub somewhere else in the home (for smaller children or people who prefer baths to showers).
It really boils down to what you want for your master bathroom. Sure, you want to think about resale potential as you're designing and building your home, but the truth is, you're building your home for your enjoyment—not for someone else. Besides, remodeling is always an option later.
Related: How Much Does it Cost to Remodel Your Bathroom in Connecticut?
4. Bathroom Vanity Selection
Choosing a vanity for your bathroom is a little more involved than simply walking down the vanity aisle at your local big box home improvement store. You can take that approach, but if you want your remodeled bathroom to be special and reflect your sense of style, you'll want to give the process a bit more thought. Here's what you need to know when choosing a bathroom vanity.
Look at Your Layout
The physical layout of your bathroom has a huge impact on your choice of vanity. If your bathroom has a gallery style layout, you may want to choose facing vanities. You may, however, have a galley style bathroom that is long and narrow that won't accommodate vanities on both sides. Or you could have a more horizontal layout or even an L-shaped room. The shape and dimensions of your bathroom will influence your choice of vanities.
Select Your Style
Do you prefer a traditional style, a contemporary style, or a transitional style vanity? That will help you choose the appropriate vanity. You'll want to take the style of the rest of your home into consideration. However, because this is a very private room, you can probably play around with ideas more. Many homeowners like building their vanities around a family heirloom or an antique piece of cabinetry that gives the room a unique character.
Find the Right Fixtures
Your choice of hardware, faucets, mirror(s), and lighting will put the crowning touches on your choice of vanity. Again, you'll want your fixture choices to coordinate with the overall style of your bathroom (traditional, contemporary, modern, transitional, etc.).
If you're looking for additional ideas for creating the perfect master bathroom (or other rooms in your home, for that matter) I'd urge you to download our free New Home Buyer's Guide eBook. In addition to helping you decide whether building or remodeling makes the most sense for you, it also provides plenty of inspiration for your kitchen and bathroom designs—and provides ideas for making the most out of the space you have.