If your bathroom is mundane, this blog is for you! Connecticut homeowners are paying much more attention to a room in their homes that once was overlooked. It used to be that people didn't even talk about their bathrooms—much less give them extra attention. That's all changed.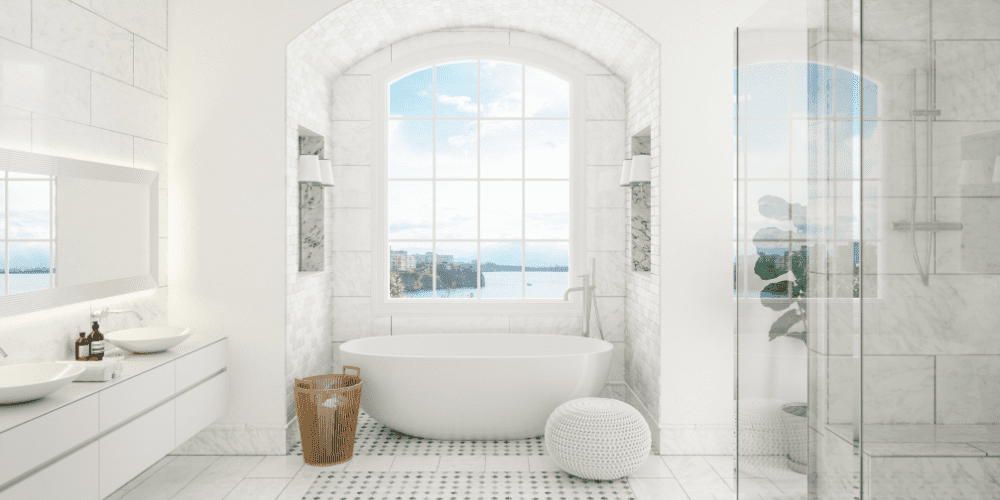 There is no better place to concentrate your style efforts than your primary bathroom. This is the bathroom attached to the primary or owner's suite. After all, the modern primary suite bath is much more than simply a place to wash up and get ready for the day. For many homeowners, it's become a retreat—a spa-like place to relax and leave the stress of the day behind.
Sunwood loves to keep Connecticut in cozy spaces that pamper its people. Whether you're building a new home in Meriden, Middletown, or Wallingford—or remodeling your existing home—it's helpful to keep an eye on new developments taking place in the primary bathroom. Here are a few of the trends we've noticed from around the country.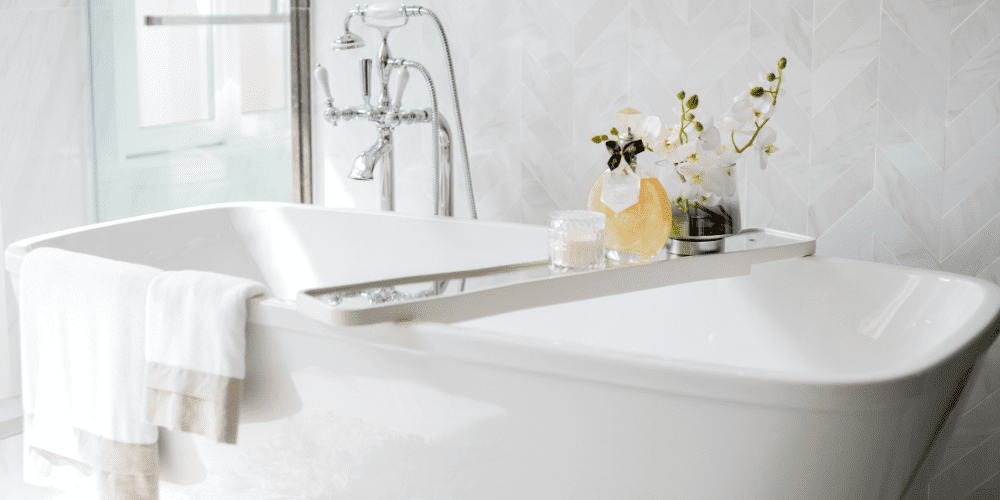 1. Sophisticated Soaking Tubs
Not all that long ago, homeowners wanted whirlpool-style tubs in their master bathrooms. While those tubs remain popular, bathroom tub trends have veered away from newfangled tech and back into classic deep tubs to provide relaxation without jets that splash and make noise. These tubs provide a much more relaxing soaking experience and enable homeowners to enjoy things such as reading, watching television, or listening to music while in the tub.
Soaking tubs can hold their heat more efficiently than conventional bathtubs. That's important if you want to have a longer, relaxing soak without having to constantly add hot water.
Soaking tubs also add an aesthetic element to your primary bath. You can choose an elegant stand-alone tub or install a soaking tub in the corner. One of the nice things about soaking tubs is that they don't take up as much room as some of the older whirlpool-type tubs. They're pleasing to look at without dominating the whole room.
2. It's Getting Steamy
Some homeowners are foregoing tubs altogether in favor of steam showers. They're a great way to relax and unwind. And for those who don't want to linger as long as a soak in the tub takes, they're a quicker alternative. Some folks are even installing remote controls that can start the steam ahead of time so that the shower is ready when they are.
In addition to providing you with some pampering, steam showers offer a number of benefits. According to Modern Bathroom, steam can help you:
Clear congested sinuses

Unwind after a work-out

Lower your blood pressure

Open pores and reduce the occurrence of blemishes

Manage stress
What will it cost you to put in a steam shower? Naturally, not all steam showers are the same, and the features you choose for your specific shower will affect the price. You can expect to pay in the range of $3,000 to $7,000 to install a steam shower in your Connecticut home.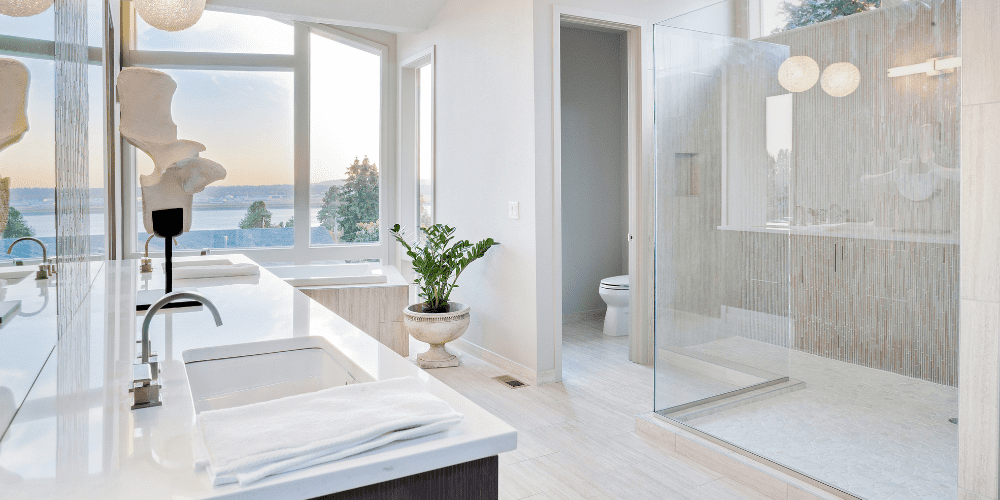 3. Super-Sized Showers
There's another option for those who don't want to sit in the tub for long periods of time. Shower sizes are getting bigger. Not only does this keep space-sensitive folks from feeling claustrophobic in the shower, but it also allows for multiple shower heads that spray from different directions. Where space is an issue, some homeowners are taking out shower walls completely and making the whole room a much larger shower or wet room. (Obviously, some additional modifications and drainage considerations are required!)
4. Sensible Storage
When thinking about a luxurious room in which to relax, it can be easy to overlook something as practical as storage during the design process. However, few bathroom features are more important. It's hard to relax if the room is cluttered because there's no place to put your "stuff." Designers and builders are getting creative about efficient bathroom storage. Big kitchen-style drawers don't work in a bathroom, so builders and designers are looking to take better advantage of vertical space—and even "creating" space by recessing storage between studs in the walls.
5. Privacy Please
There's a growing trend to keep the toilet separate from the rest of the bathroom for multiple concurrent users or added privacy`. In some cases, homeowners have moved the water closet into its own "closet." Where that's not feasible, others are building a privacy wall between the toilet and the rest of the room.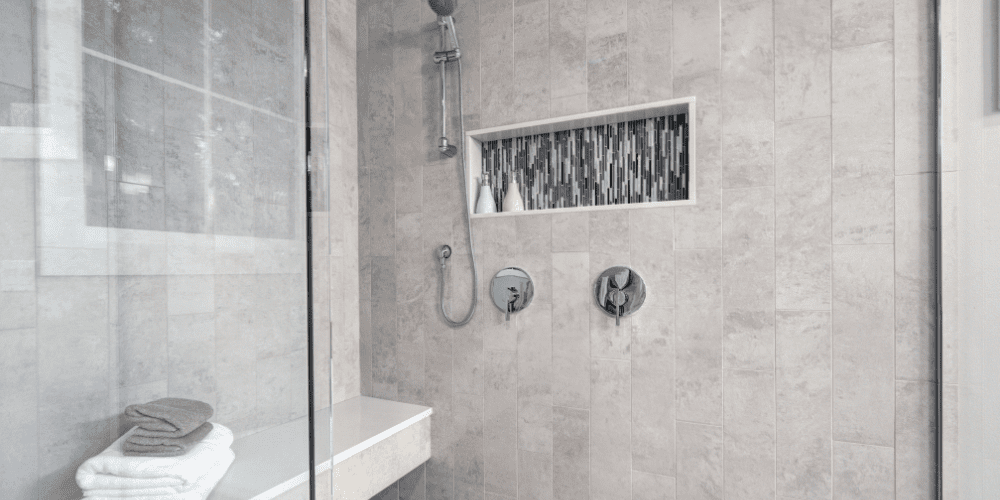 6. Accessibility for Now and Later
More homeowners are looking to the future when designing their bathrooms. If they plan to stay in their homes into their golden years, they are building in features that will enable them to enjoy their bathrooms safely as their age changes their motor functioning and mobility. Forget about industrial-looking grab bars and clunky handles and pulls. The elegant solutions that are now on the market blend seamless into the rest of your design.
Create a beautiful Master Bathroom that minimizes the risk of falling by installing seamless, lipless shower entrances. Add built-in seating in the shower and flexible/adjustable shower heads that allow comfortable showering in a seated position. Consider slip-resistant flooring, and don't underestimate the value of adequate lighting in the bathroom to provide a great workspace and prevent falls.
7. Turning Up the Heat from Underneath
All that nice soaking in your tub or shower loses its effectiveness when you step out onto an ice-cold floor. An increasing number of homeowners are installing radiant electric heat under their tile or stone flooring to stay consistently comfortable. It's a surprisingly affordable option that adds a whole lot of comfort.
What do we mean when we say adding radiant heat to your flooring is affordable? Of course, tearing up your flooring to install radiant-heat options is much more expensive, but if we're installing new flooring anyway, this system is surprisingly affordable. Every situation is unique, but typical costs to install heated flooring for a 100-square-foot bathroom can range from $475 to $725. Obviously, you'll need to adjust that figure for a larger bathroom. Heated flooring is a luxury item, but for many who have experienced stepping out onto a stone or tile floor on a cold Connecticut winter day, it's a luxury they are willing to pay for!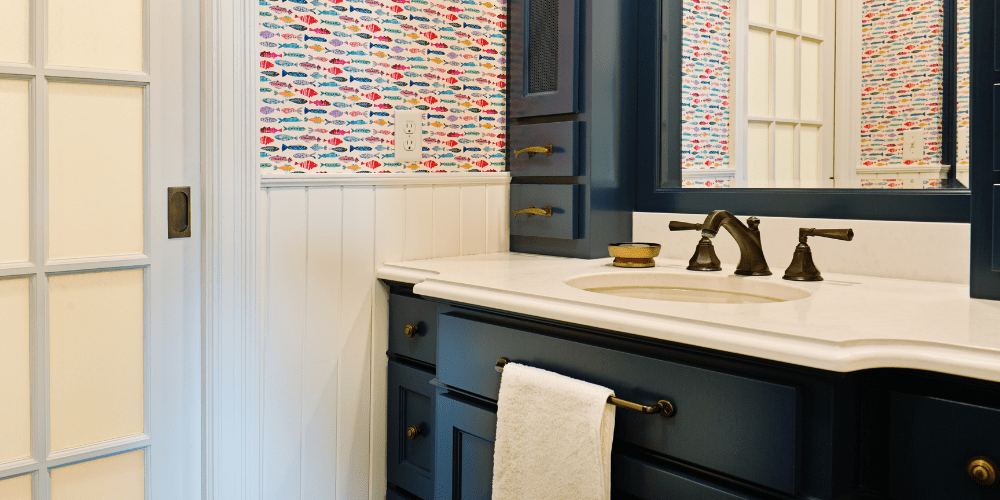 8. A Beautiful Vanity isn't Vain
We are well beyond the novelty a double vanity provides to a primary suite bathroom. Savvy homeowners know that their primary bathroom vanity should offer way more than the utility of double sinks. Bathroom vanity trends for 2023 are branching out into new colors and exploring new styles. Adding a pop of color to your bathroom by choosing navy, earthy green, or greige vanity cabinets sets a serene background that feels anything but generic. Unique bathroom mirrors above the vanity are another great way to add a personal touch. Choose playful shapes, a gilded vintage-inspired showpiece, or a matte-black frame to match your trendy matte-black pulls and handles.


9. Bathroom Technology to the Rescue
Many people are adding technology-fueled creature comforts to their primary bathroom. We've talked a bit about smart steam showers that heat up with a button and radiant heated tile floors, but bathroom technology offers an ever-expanding array of options to meet every need. Warming drawers provide a cozy towel or robe to avoid every chill. Smart toilets offer customizable options, bidets, and seat warmers for personal comfort. Voice-activated lights and commands ensure that no one needs to make a nude dash through the bathroom to get the lights just right. A small bathroom refrigerator might be just the ticket to keep skin care products fresh and mimosas close at hand. Bathroom technology offers a more customized and frictionless experience than ever before.
If you're looking for even more ideas on how to create a comfortable and luxurious master bathroom, download our free special report: Beautiful Bathrooms—Building the Ultimate Retreat.
When you're ready to build a beautiful bathroom, whether it's part of a new home or a remodel, Sunwood would love to chat about your Central Connecticut residential construction project. Experience the difference of working with a contractor without any lingering questions in your gut. Reach out to Sunwood Home Builders & Remodelers today.