Home Design Trends to Look Out for in 2022
Maybe it's a byproduct of the covid-19 pandemic, or perhaps it's simply an innocent desire to escape the stressors of the modern age; either way, in 2021, people were focused on making their homes as functional and relaxing as possible. That trend is expected to expand in 2022 as designers create havens of tranquility that tangibly improve the lives and wellbeing of their inhabitants.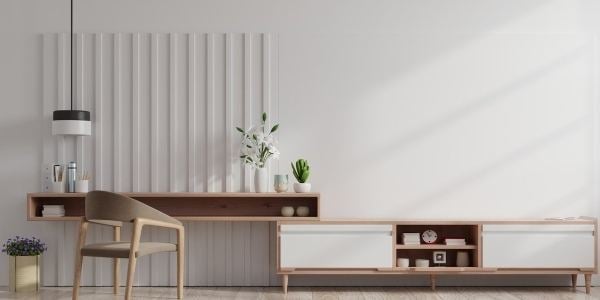 Designers create these interiors by combining modern favorites, like minimalism, with new takes on the classics. Keep reading to learn more about decor trends and interior design trends for 2022!
Biophilic Design
In 2020 and 2021, most Americans weathered the covid-19 pandemic in the relative safety of their homes. But, as months of staying indoors dragged on, many felt a longing to reconnect with nature. That desire has brought biophilic design to the forefront of interior design, and the trend is predicted to dominate 2022 interiors.
Biophilia is humanity's innate instinct to connect to the natural world and other living things. In interior design, that means designers use colors, materials, and decor that are inspired by nature to create interiors that make you feel connected to the outdoors. Biophilic design does more than just make your home look pretty though; it has been proven to support cognitive functioning, psychological well-being, and physical health.
Design Tips:
Incorporate natural hues. Bring biophilia into your home by employing a color palette that is both neutral and natural. Start with a base of neutral colors (these never go out of style) such as grays, beiges, whites, and creams. Maybe a year or two ago you would have stopped there and gone for an all-neutral look. But now people are spicing things up with accents of green, blue, deep red, and warm earth tones like terracotta or pink. These accents invigorate your interiors while staying true to the colors of nature.
Use natural materials. Take biophilic design a step further by using natural materials, such as wood and stone, in your interiors. Wood cabinets, for example, were out of vogue for a while, but now they've made a comeback as a top kitchen cabinet trend for 2021.
Create a natural ambiance indoors. Design your space around your windows to maximize your natural light; connect with nature by using plants or other natural elements, such as seashells, crystal, and pinecones, in your decor; and add another layer of ambiance by turning on an indoor small water fountain or crackling fireplace. If you don't have access to either of those things, you can look up a fireplace or nature sounds video on YouTube!


Comfortable Minimalism
Minimalism, like biophilic design, is about creating interiors that make its inhabitants feel a certain way. While biophilic design helps people feel closer to nature, minimalism creates a sense of calm. Typically this atmosphere is achieved through the use of clean, simple lines and a monochromatic color palette. But, in 2022 minimalism is evolving beyond the bare essentials to include creature comforts.
The prime example of this shift is Japandi design, a combination of rustic Japanese minimalism and Scandinavian comfort. Like traditional minimalism, Japandi design creates simplistic and highly functional spaces. Yet, because white-on-white minimalism can sometimes feel cold or sterile, Japandi design uses soft textures, natural materials, and a more colorful palette to warm things up.
Design Tips:
Get cozy with textures. To keep your minimalist interior warm and welcoming, incorporate decor with soft textures like blankets and pillows, drapes, textured light shades, animal pelts, visibly-grained wood, and macrame wall art. You can even experiment with covering your walls in plaster, linen-textured wallpaper, or another soft material.
Try the minimalist lifestyle. Minimalism is more than an interior design aesthetic; it's a lifestyle based on living simply and owning only what you need for daily life. Give minimalism a try yourself by decluttering your closet, desk, or other chaotic places. Get rid of anything that doesn't serve a purpose or bring you happiness. It might take a little bit of work, but it's the only way to truly get the minimalist look!
Break up neutrals. To keep the simplistic essence of minimalism, you'll want the majority of your color palette to be neutral. But to add visual interest and depth, contrast your neutrals with rich blacks and browns, or energize your space with natural blues and greens. If you want even more contrast try patterned or textured wallpaper. Botanical and large format tile-textured wallpaper is expected to be among the most popular wallpapers for 2022.


Vintage Sustainability
If the trends toward biophilic and minimalist design are any indication, 2022 interior design is all about making homes that feel calm, natural, and, well, homey. That's one reason vintage decor will continue to be popular in 2022: because having a unique collection of vintage pieces allows you to create a bespoke interior that's entirely your own.
In addition, buying vintage is one of the most sustainable ways to furnish your home. And throughout 2021 designers have prioritized sustainability by using reclaimed, recycled, non-toxic, and ethically sourced materials. That helps the environment and can result in a lower energy bill for you. So, try investing in energy-efficient designs and eco-friendly materials, or simply head down to your local thrift shop to find vintage decor that fits your personal style.
Design Tips:
Update your metals. If you want to refresh your kitchen or bathroom but don't have it in your budget to get new cabinets, try swapping out your hardware. Old fashioned cabinet handles can give your cabinetry a classic elegance. And some metals, like brass and bronze, will oxidize beautifully as they age. Give your kitchen a cool retro vibe with vintage metal kitchen chairs that make your space feel fun and personal.
Bring the roaring twenties into the 2lrst century. Art deco decor, popularized in the 1920s, is experiencing a revival in the form of vintage furniture, fluted or ribbed finishes, and

crittall windows

. It adds an air of luxury and elegance to your home, so try experimenting with vintage aesthetic bedroom decor to make your bedroom the most sumptuous room in the house.
Go retro. Art deco isn't the only interior design aesthetic back in style. Mid-century modern styles of furniture, which hail from the 1960s and 70s, have thrived during the pandemic. Currently, curved mirrors, kitchen islands, barrel back chairs, and sofas are capturing the imagination of the interior design world. The soft edges created by mid-century furniture contrast wonderfully when combined with the clean lines of minimalism. You can even try mixing art deco and mid-century styles by, for example, placing a sleek, vintage mid-century lampshade atop a fluted art deco bedside table.


Are you sick of living in a house that doesn't fit your life and style? Rework your space to flow better and incorporate 2022's hottest trends with a remodel. Give us a call if you have questions about the design and remodeling process or if you're ready to get started!