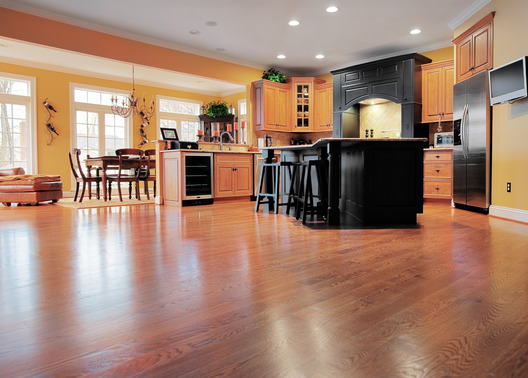 Floors may be underfoot, but they should never be downtrodden. Your flooring is the largest single exposed area in your house, and what you put on it makes a huge impact. Not just visually, but also in the influence it has on the other fixtures and furnishings. If your floor has seen better days, everything that stands on it will look a shade shabbier. It's also one of the smartest ways to spend your remodeling dollars!
If you're considering updating your home decor, there are some exciting flooring trends to tempt you into creative adventurism. It doesn't matter whether your taste is traditional or high-tech edgy, the latest trends in flooring will have you wondering if you can do without furniture so you can avoid covering up your new floor. Here's a quick roundup of the three most exciting 2014 CT remodeling trends to look out for.
Hardwood and Laminate Flooring
Hardwood flooring has been with us for as long as we've had trees, but interior designers keep finding new ways to give a modern twist to this traditional theme. 2014 is shaping up to be an innovative year as far as natural wood floors go:
Colors are warmer. Forget dark, heavy flooring that soaks up the light, and forget the Scandinavian blonds that have been on trend for years. Wood colors this year are in warm honey tones or soft greys and beiges with rich, glowing hues.
Planks are wider. Forget the narrow interlocking strips we've grown familiar with. Bold, wide planking is now in style. 7-inch wide planks are becoming common, creating a broad swathe of natural hardwood grain that's rich and deep.
Introduce tile or stone effects. Where mixed media was once the exclusive preserve of the art world, interiors are now getting in on the act. Expect to see exciting flooring trends of wood and tile mosaic designs with diagonal wood planking cutting through natural stone or ceramic tile.
Floors With a Zing of Color
If you like bright, bold color, floors are the new walls for a vibrant and artistic color palette. Glossy reds, midnight blacks or even pristine white are making their appearance in contemporary homes on the cutting edge of decor fashion.
In living rooms, reception halls and stairways, vibrant floor coloring makes an edgy statement. Vivacious colors like reds go well with monochrome, minimalist furnishing while black, stained or painted floors look sleekly elegant when they're paired with Art Deco styled fittings and lavish soft furnishings to soften the look.
Roman-Style Tiled Floors
Mosaic tiling is bringing a touch of the Roman Empire to American interiors. The solid blocks of color familiar from Mediterranean style tiling, or the stark contrast effect of parquet tiles is being swept to one side by classic mosaic designs in small ceramic or glass tiles. Especially effective in hallways and entrance foyers, these grand designs are a major investment but will look elegant for years.
With more people considering the possibility of aging in place, remodeling in CT is taking a longer view of home improvements. For big impact and long lasting, cost-effective upgrades renewing your floor is a sound starting point, and these flooring trends should help you get started.