The Tile Guide: Types, Sizes, Patterns and More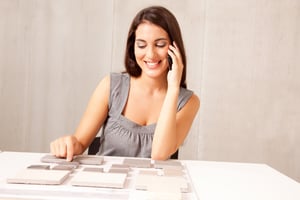 Tiles are one of the few construction products you can find in nearly every building, whether it's a home, an office or an institutional structure. They're so ubiquitous, in fact, that most of us don't even notice them. Unless they are absolutely hideous! Most people also don't really know what their tile options are.
If you're building a new home or renovating your existing one, this guide to tile types, sizes, patterns and more will be a big help.
Types of Tiles
There are many different types of tiles, and the most basic difference is between wall and floor tiles. Wall tiles tend to be smaller, thinner and lighter, which makes it easier to get them to stay put when installed vertically. Floor tiles are thicker and more durable; they're designed to take a lot more punishment.
Tiles also come in indoor and outdoor variations, with the exterior types usually being natural stone or hardy terra cotta. They're usually much heavier and hard-wearing. More like a flagstone in some respects than a classic tile.
Materials
There are many different types of materials and finishes you can choose from when selecting tiles. Here are some of the basic, more common options you'll find:
Travertine, which is actually a type of limestone.
Ceramic, which is a baked clay tile that can range from delicate porcelain to rustic terracotta.
Faux wood, which looks like wood and is warmer than traditional tile.
Marble tile, which is expensive and can be slippery as a floor tile, but is hard wearing and beautiful.
Slate tile, also a natural stone tile, that tends to be less delicate than marble, and because it's textured, less slippery too.
Granite and quartzite, two more natural stone options.
Pebbles and mosaic, which are popular in bathrooms and kitchens. They can be installed in many creative ways, making them a great option to add interest.
Sizes
Tiles come in a wide range of sizes, from about 1-inch square (mosaic tile) to large, 24-by-24-inch types that are typically used for flooring.
Common tile sizes are 16-by-16 inch, 12-by-12 inch, 6-by-6 inch, 4-by-4 inch and subway tile, which are typically either 3-by-6 inch or 2-by-4-inch. Tile thickness varies too, between about 1/8 inch and 1/3 inch. Of course, the size and thickness of a tile will determine the weight, and that often decides whether it is a good choice for installation on the wall or on your floors.
Patterns
One has two primary considerations when selecting tile patterns: the design on the actual tile and the way it is laid on the wall or floor. In terms of style, there are historic options, modern, monochromatic designs and everything in between.
Tile installation patterns include the classic straight lay, where tiles are lined up vertically and horizontally; a brick pattern, where alternate rows are staggered; or herringbone, an alternating arrangement to achieve a V-shaped effect. The pattern in which tiles are laid can be as important to the overall look as the tile itself, so be sure to spend some time considering this and discussing options with your homebuilder.