If you're looking to add a splash of color and interest to your Connecticut kitchen, take a look at the area just above your countertops. The backsplash in your kitchen is a feature that allows you to express much individual creativity for relatively little expense. Homeowners are opting for materials ranging from granite and glass to stainless steel and copper to highlight and protect their kitchen walls. The most popular choice for a kitchen backsplash—largely because of the diversity it affords—remains tile.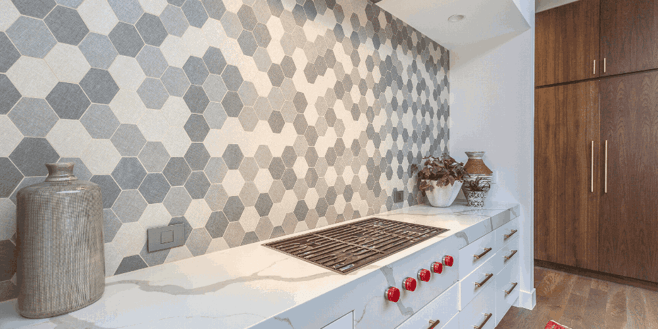 At Sunwood, we know our way around a kitchen. Our construction experts have installed enough tile over the years to earn our informed opinions. If you think that tile means plain and simple—think again. There are subway tiles, brick-look tiles, and tiles that look like rock. If you can imagine it, you can probably find it. And many homeowners mix various kinds and colors of tiles to create beautiful backgrounds. Some even create murals out of the tiles they choose.
Backsplash Function and Requirements
However, it's important to remember that your backsplash performs a vital function beyond just looking good. Around the stove and behind the sink, the backsplash protects the wall from grease, water, and dirt. In those high-use/high-splash areas, you'll want to consider how easy it is to clean your backsplash material. You can select a durable material for the entire backsplash or showcase a more functional material in your heavy-use zones. If you are installing a clean and simple beadboard backsplash in most of your kitchen, for example, you may want to include a quartz backsplash behind the range to keep your workspace looking pristine, even when you're busy in the kitchen.
Things to Consider When Choosing a Backsplash
Besides ease of cleanup, however, what should you take into consideration when selecting your backsplash material?
Get something you like. That may sound obvious, but sometimes homeowners opt for something trendy or make a quick selection to move the design process along. Make sure it's a material you like—and it fits with the rest of your kitchen (cabinets, floors, and appliances).

Color coordinate. If you've got white or very light cabinets, you'll probably want a lighter-colored backsplash. Darker cabinets tend to look better with darker backsplashes. For example, navy cabinets look best with another intense, darker color like deep grey or brown and can be washed out by cream or white tile. While this isn't a hard and fast rule, choosing contrasting tones can break your kitchen's flown into disconnected parts.

Pay attention to scale. If you have a smaller kitchen, large tiles in the backsplash can actually make the space look smaller. Conversely, if you use a really small pattern in a large kitchen, it can easily make the walls look too busy.

Get the right grout. You probably don't want a contrasting grout. You want people to notice the tile—not the grout. Plus, a prominent grout color also tends to highlight any little imperfections in the tile work. That's not what you want people to notice.

Don't forget the switch plate covers. Keep the thickness of your tile (or any other material) in mind, and remember that your kitchen will have many outlets that need to be covered. Installing poorly matched (or poorly fitting) switch plates can ruin the look of a gorgeous backsplash.
Backsplash Trends That Are Headed Out of Style
You don't want your kitchen to scream 2022 in 2027. You will likely see many design trends come and go before you remodel your kitchen again. Timeless kitchens are created with attention to the moment, respect for the classics, and an eye toward the future; knowing which trends to avoid is an important step in selecting a backsplash that will wow for years to come. Here are some kitchen backsplash trends that may be headed out of style.
Complex arrangements- Ornate tile work, or tiles laid out in complex patterns, are difficult to install correctly and make your space appear busier than you intended. Herringbone, chevron, and similar tile arrangements rose to intense popularity in recent years and are now headed out of style.
Partial backsplash- Many older kitchens only tile heavy-duty workspaces, such as behind the sink and stove. Wrapping your tile backsplash around your entire kitchen and up a wall or two brings your space together with a sleek, unified theme.
Monochromatic white- Light colors and pristine white spaces still have their place in kitchens in 2023 and beyond, but interrupted white tile can be a missed opportunity for self-expression and a much more interesting design.


Rising Trends in Backsplashes in 2023
Playful shapes- Triangles, Moroccan-inspired arabesque, hexagonal tiles, and more! Playful tiles are a fantastic way to add texture and interest to your most functional spaces. Square tiles with multi-colored patterns are another way to add a unique shape to your backsplash.
Large format tiles- Large tiles, measuring over a foot in any dimension, create sleek, smooth surfaces that soothe the eye and wipe down like a dream.
Colorful patterns- Backsplashes are great places to experiment with color as well, especially if you've got darker cabinets. Glass tiles, painted tiles, tile mosaics, and other colorful options allow for self-expression and ultimate customization.


Let's Build it Together!
You can make a big splash with your kitchen backsplash—if you do it right. If you have other kitchen construction, design, or remodeling questions, we'd love to talk to you. We'd love to put our expertise in building and remodeling truly beautiful Connecticut kitchens to work for you.