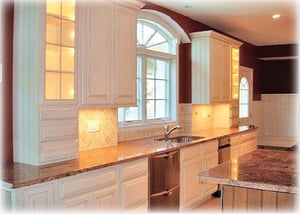 Whether you're building a brand new home or remodeling your Connecticut kitchen there are some things you may want to think about that can transform this room from "just another kitchen" into a kitchen you'll love.
Plan for Natural Light:

When you think about the features that influence the look and feel of your kitchen, the things that probably come to mind are cabinets, countertops, and flooring. And while those are incredibly important, there is probably nothing that has a bigger impact than natural light. The photo you see here is a good example (

you can get a bigger, more detailed view here

). The large window over the sink really opens up the whole kitchen. You may give up a little bit of storage space (see below for how to compensate) but it's worth it to bring the natural light in.
Allow Yourself Some Elbow Room:

Nobody wants to work in a cramped kitchen. One way to alleviate that is to make sure you have adequate space between your countertops. While it's nice to be able to easily reach from one counter to the other, you'll also want to leave yourself enough room to bend over when you want to retrieve something from your lower cabinets.
Consider Switching to Drawers

: Speaking of lower cabinets, you might want to consider a departure from the traditional door and shelving approach found in a lot of lower cabinets. If you consider switching to drawers instead of doors and shelving it makes it a lot easier to see what's in the back of your cabinets. When you slide the drawers out, everything is in the light—and it's much easier to find what you want without squatting or getting down on your hands and knees. Adding "soft-close" drawers is an inexpensive upgrade that you'll really appreciate.
Keep It Quiet

: Of course banging doors aren't the only source of noise in the kitchen. Your dishwasher can make a racket, too. That can be a bit of a nuisance if you have a kitchen that's open to the dining area or family room. It's worth it to invest in a dishwasher with a decibel level that's below 45. The more quiet the appliance, the more expensive it is, so you'll want to weigh the cost against the noise.
Picture a Pantry Wall

: We talked above about giving up a bit of storage space to accommodate window space. One way to compensate is by building in a floor-to-ceiling pantry on one of your interior walls. You can make it blend in with the rest of your cabinets or you can build it with a glass door that let's you see what you're looking for from the outside.
Hands-off Faucets:

Faucets may not seem like a big thing, but they can make a huge difference in how you feel about your kitchen. Cheap faucets are no bargain. Faucets that drip or don't work properly are a headache. One thing to consider is installing a hands-free faucet that turns on with a touch or by waving your hand in front of the sensor. These faucets are great when you're working with raw meat or sticky substances. Then you don't have to wipe down the faucet and handles each time you turn on the water.
Those are a few ideas that can transform the look and feel of your new kitchen. What would be other "must-haves" for your dream kitchen?