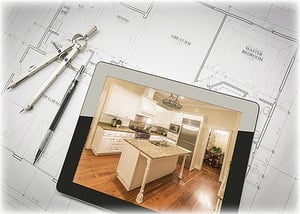 To make your Connecticut home remodel a success, you need to have a plan. Without one, your remodel won't achieve the look you want or give you the functionality you need. That's why one of the most important steps when it comes to a kitchen remodel is picking a layout that has the usability, space, storage, and functionality to match your life. But there are so many different options to choose from — what's the difference between a G-shaped, L-shaped, or C-shaped kitchen design anyway? We've got some answers for you. Let's check out some of the most popular layouts and their kitchen advantages!



Start with the Triangle Rule
While it's not a hard-and-fast rule, many homeowners and designers start planning their layout with a concept that's known as the kitchen triangle. It's based on the three elements that tend to be the most-used areas in your kitchen: your oven or stove; your sink; and your refrigerator. The idea is to maximize your efficiency as you move from one area to the next by setting these elements in a loosely shaped triangle. While this affects the way your kitchen looks, the primary purpose is to help you organize your kitchen in a way that makes food preparation most convenient for you. However… rules were meant to be broken, so don't be afraid to leave the kitchen triangle in the dust — just make sure you're doing so for a good reason!
With that triangle in mind, let's look at the pros and cons of some common kitchen layouts.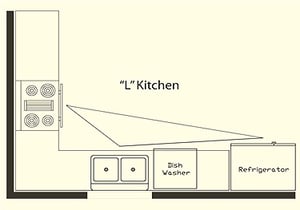 L-Shaped Kitchens
This design features counters and cabinets along two conjoined walls to form an "L" shape. The room itself is generally square or rectangular in configuration. Often the kitchen opens into a dining room or family.
The Pros:

There tends to be plenty of room to move around and space to add an island if you want.

The openness of this design can make your room look bigger.

The Cons:

Counter space is limited to two walls. That's not always efficient and may mean more work when you're cooking.

Galley Kitchens
This is a common configuration for small kitchen floor plans because it requires less space. Also known as a single-wide kitchen layout, it's formed by two parallel countertops — the sink on one side and the oven and refrigerator on the other side.
The Pros:

Galley kitchens are a great option to maximize your existing kitchen space if your remodel doesn't include an expansion.

Galley kitchens are one of the most efficient kitchen layouts. It makes use of the kitchen triangle rule, putting the sink, stove, and fridge in close proximity. Because the work triangle is small, it'll take less moving around to do the same amount of cooking or cleaning.

The Cons:

There's not a lot of space for traffic. It's not the kind of kitchen where guests can easily hang out.

There often isn't a lot of counter space, which can be frustrating when preparing larger meals.

Less space can make it difficult for there to be more than one cook moving around.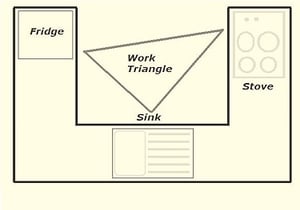 U-Shaped Kitchens
With a U-shaped kitchen remodel, there are three connecting walls of counter space with one open wall, creating a rectangular kitchen layout. But some modern u-shaped layouts are created using two connecting walls of cabinets, appliances, and countertops with a kitchen island creating the third wall.
The Pros:

U-shaped kitchens are very open and have lots of storage. While not quite as open as an L-shaped kitchen, it has an advantage of an easily accessible third countertop.

Because U-shaped kitchens have more space, it's easier for multiple cooks, as well as family members or guests, to mingle in the kitchen.

The Cons:

With three walls, you'll have lots of corner cabinets. These cabinets are large and deep — which is great for storage — but it's often difficult to keep them organized and reach items near the back of the cabinet. You can work around this with the use of a lazy Susan or other storage containers.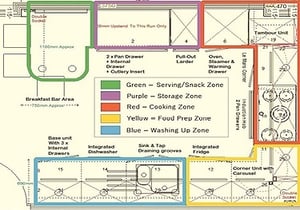 Zone Kitchens
This design actually breaks away from the conventional kitchen triangle rule. These kitchens frequently feature an irregular design — and employ separate workstations for specific activities. With a zoned kitchen, your layout will change depending on what zones or elements you choose to include. So, there's no hard and fast rule for what a zone kitchen layout looks like. A zone kitchen might include a unique feature like a T-shaped island, which then creates a T-shaped kitchen layout.
The Pros:

Zone kitchens allow for a lot of flexibility, so they're perfect if you like to host dinner parties or cook with other people.

This style of kitchen is also a bit more aesthetically interesting because things don't have to be so lined up.

The Cones:

Zone

kitchens don't follow the traditional formula so they can take a little bit to get used to.

Zone kitchens tend to take more effort to plan since you're designing something more unique than a traditional layout. The flip side of that is that you can set it up according to your specific tastes and desires.
While the aforementioned kitchen layouts are some of the most well-established and efficient kitchen designs, don't be afraid to create a layout that's personalized for your life. Simply take note of your preferences and needs; with the right designer and remodeler at your side, your perfect kitchen layout will come to life in no time! Check out our remodeling guide or floor plans to learn more about remodeling and see if Sunwood Homebuilders and Remodelers is the right Connecticut-based remodeler for you.