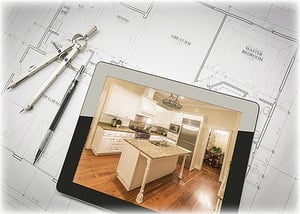 Successfully remodeling the kitchen in your Connecticut home always includes having a good plan. You want a kitchen that matches your lifestyle. But there are so many different options from which to choose, how do you select the layout that's right for you? There are "C"-shaped layouts, "G"-shaped layouts, "U" shaped layouts and galley-style layouts. Let's look at a few of the pros and cons of different kitchen layouts.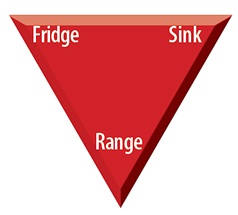 Think in Terms of a Triangle: While it's not a hard-and-fast rule, many homeowners and designers start with a concept that's known as the "kitchen triangle." It's based on three elements that tend to be the most-used areas in your kitchen: You range; your sink; and your refrigerator. The idea is to maximize your efficiency as you (repeatedly) move from one area to the next. While this obviously can affect the way your kitchen looks, the primary purpose is to help you organize your kitchen in a way that makes food preparation (and entertaining) most convenient for you.
With that triangle in mind, let's look at the pros and cons of various layouts.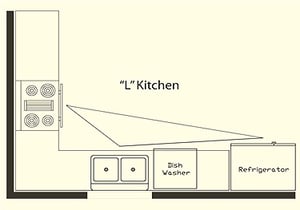 "L-Shaped" Kitchens: This design features counter space along two walls to form an "L" shape. The room itself is generally square or rectangular in configuration. Often the kitchen opens into a dining room or family (think of a Great Room design).
The Pros of this configuration are that there is usually space for an island (which is very popular). There tends to be plenty of room to move around, and the openness gives a visual impression of even more space.
The Cons of this design include the fact that the counter space is limited to two walls. That's not always efficient and may mean more walking in the kitchen for food preparation.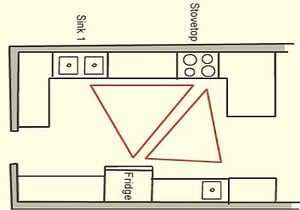 "Galley" Kitchens:This is a common configuration for smaller homes and positions the sink on one side and the oven and refrigerator on the other side.
The Pros of this design is that it works well in a situation where you really can't expand the kitchen space. It's a very efficient kitchen because the "work triangle" is small. That means few steps for the cook (and easier clean-up).
The Cons of a Galley kitchen is that there's not a lot of space for traffic. It's not the kind of kitchen where guests can easily hang out. There often isn't a lot of counter space, which can be frustrating when preparing larger meals.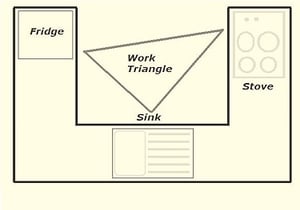 "U-Shaped" Kitchens: This design lines counter space up on three sides and leave one side open.
The Pros of a "U-Shaped" kitchen include their openness. While not quite as open as an "L-Shaped" kitchen, it has an advantage of an easily accessible third counter top. That makes it convenient for the person preparing a meal, but it also allows guests or family members to mingle in the kitchen.
The Cons of this configuration is that you'll deal with more corner cabinets. While these cabinets are large and deep (allowing lots of storage), it's often hard to access items at the rear of the cabinet. Building in a "Lazy Susan" can really help with that issue.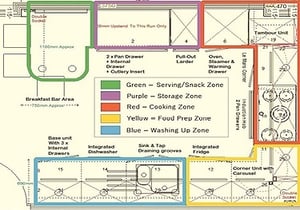 "Zone" Kitchens: This design actually breaks away from the conventional "Work Triangle" arrangement. These kitchens frequently feature an irregular design—and employ separate workstations for specific activities (Cooking, eating, chopping, baking, etc.).
The Pros of this layout include great flexibility (you can actually have different people working on different tasks simultaneously). This style of kitchen is also a bit more aesthetically interesting because things don't have to be so lined up.
The Cons of a "Zone" are that it takes some getting used to (because it doesn't follow the traditional plan). It may also require more effort on your part to plan. The flip side of that is that you can set it up according to your specific tastes and desires.
Obviously, the current configuration of your existing kitchen can influence which direction you take. And your lifestyle will probably influence your choices as well (if you don't entertain a lot, or don't entertain in the kitchen, you may be quite happy with a smaller kitchen design). The smart thing to do is think about those things and talk with your remodeler to map out possible solutions.