How to Avoid Bad Traffic Flow in Your Remodeled CT Kitchen
Getting traffic to flow smoothly through your kitchen can be a challenge. But that doesn't mean you have to hang traffic signs above your kitchen island or post a traffic copin your kitchen to solve the problem. You just need a little planning and the assistance of a qualified CT remodeler.
A thorough remodeling of your Wallingford-area kitchen involves more than simply sprucing up the look of one of the most important rooms in your home. It's really about making the most of the space that you have—and sometimes even creating space that you didn't realize was there.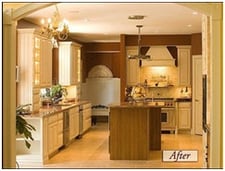 If you take a look at the remodeled Wallingford kitchen that we remodeled recently, you can see that the kitchen not only looks beautiful, but it's also functional. There's plenty of space for the cook to prepare meals and clean up—and still have family or friends in the kitchen. And because people tend to gather there anyway, you'll want your kitchen to be comfortable and welcoming.
But to achieve that requires more than a new coat of paint or resurfacing some cabinets (by the way, cabinets are important and here's a look at the pros and cons of custom cabinets). That's where a qualified, professional remodeler really shines. A professional can look at the space and re-create that space to better suit your specific needs.
Again, looking at the recent remodling project above, you'll see that there's no crowding in this kitchen. There's plenty of space between the island and the sink and counter space. But the space is also designed to allow for efficient preparation of food—including cleaning, chopping, and cooking. But the space is also inviting for family members who may want to gather for breakfast, or for a casual meal or snack at the island.
You'll also notice that the wide, open arch at the end of the room adds more visual space—and makes it easy for guests (and the cook!) to move freely between the kitchen and other common areas in the home.
A well-designed and professionally remodeled kitchen doesn't need traffic signs or a traffic cop for people to find their way. The design itself makes it easy to move and do what you want to do.
I invite you to visit our remodeling gallery to see some additional solutions we've come up with for homeowners in the Wallingford area. And if you're looking for ideas, please download our free Home Design Guide. It will walk you through which design trends and details are important when designing an ideal kitchen—and so much more!