Guide to Choosing the Right Kitchen Cabinets in Connecticut
Whether you're renovating the kitchen in your Connecticut home or building a new home in the area, choosing the right cabinets for your home isn't something you can take lightly. For one thing, your cabinets are perhaps the most dominant feature in your kitchen. And with the kitchen playing such a critical role as the "heart of your home," cabinets are important.
There's more to your cabinets than simple aesthetics, however. If your cabinets aren't fully functional and easy to use, you won't enjoy your kitchen nearly as much. And of course, there's the cost factor. You'll probably spend more on your kitchen cabinets than on any other feature in your kitchen. So it's nice to get them "right." That being said, what criteria should you use when making your cabinet selection? Here's a guide to choosing the right cabinets in your Connecticut home.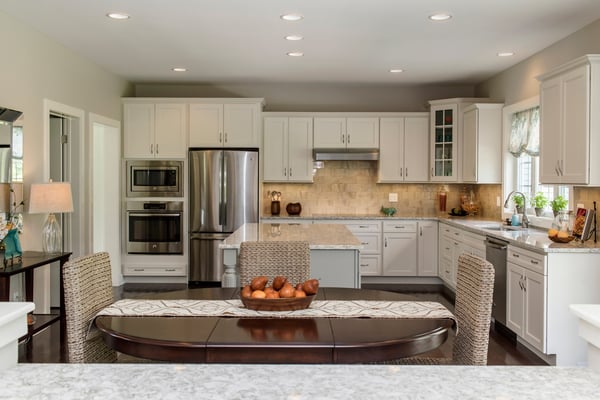 What to Look For In Kitchen Cabinets
Kitchen Cabinet Styles
What kind of look are you after? Are you going for country, modern, gourmet or traditional? Do you want a natural wood finish? Although maple and cherry continue to be the most popular woods for kitchen cabinetry, there is a strong move to use more exotic woods such as oak, walnut, birch, and bamboo.
Functionality of the Cabinets
Making sure your kitchen cabinets function to fit your lifestyle is important. Soft-close doors and drawers are increasingly popular. They produce a nice gentle feel in addition to being a more quiet solution. You'll also want to be sure that your doors are fully adjustable so that when they're installed everything is uniform.
Use of Kitchen Cabinet Space
If you look at modern kitchens you'll see increasing numbers of wall cabinets that extend all the way to the ceiling. That allows for additional storage space for seldom-used items—without the cluttered look of having them perched exposed on top of your cabinets. Add-ons such as a "Lazy Susan" can help you take advantage of wasted corner space and still make it easy to access items stored in the back of a cabinet.
Cabinet Hardware
Your choice of hardware adds the finishing touch to your cabinetry. Some have even called it the kitchen's "jewelry." Make sure the hardware you select not only matches the style of cabinet you've chosen but that it's comfortable to use.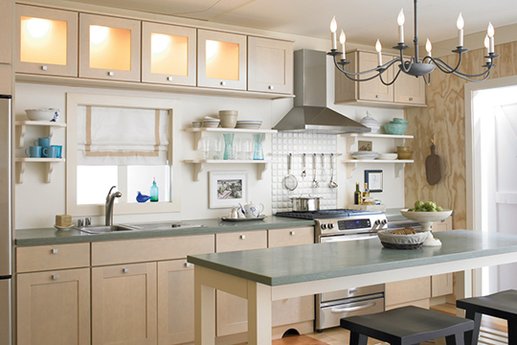 Spotting Quality Kitchen Cabinets
Regardless of your budget, you'll want cabinets that are well-constructed. Most homeowners aren't going to go the route of truly custom-made cabinets, so here are a few things to look at when checking out stock or middle-grade cabinets at a supplier
1. Check the Cabinet Finishes
Closely inspect the finish of the cabinet. If possible, find out how many coats of paint or stain were used. Take a look at the seams. Do things fit well? Does it look like the surface will hold up to continual use?
2. Look Inside the Cabinets
Rough or unfinished interiors are a sign of poorer quality. The insides don't have to be as smooth at the surface, of course, but you don't want sharp edges or rough surfaces that will catch your skin or your clothing. Look for ¾" plywood or MDF shelving. Thinner shelves can sag once they've been loaded up.
3. Examine the Cabinet Joints
Quality cabinets will feature solid-wood drawers and dovetail joinery. If you see stapled particleboard, it's lower quality (and won't last as long). Well-built drawers will use solid-wood sides and a plywood bottom that fits grooves on all four sides. You'll also want to look for full-extension drawer guides, rather than integrated rails.
4. Test the Cabinets for Use
Open the doors and drawers to see how they work. The hardware should feel solid and work smoothly. If it doesn't, you'll be looking at trouble down the road. It sounds subjective, but the feel of the doors and drawers (and the frames themselves) are really key to getting cabinetry that will provide years of use.
You'll have a lot of choices when it comes to colors, finishes and even door styles. And though aesthetics are important, make sure you have cabinets that will stand up to daily use. Focus on quality first, and then choose the style and colors you want.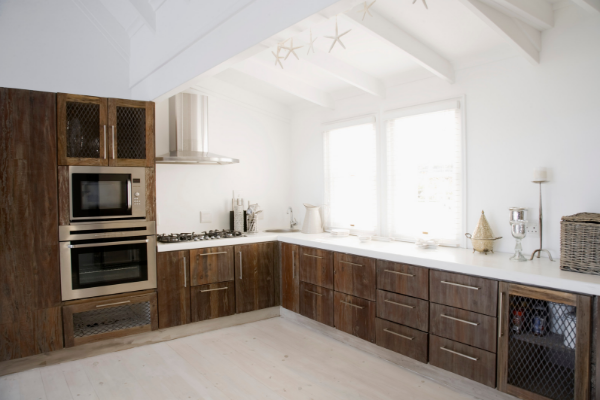 Cost of Kitchen Cabinets
You'll have to keep your budget in mind as you make design considerations, and there's a wide range of pricing when it comes to kitchen cabinets. The cost of your kitchen cabinets depends on the size of your kitchen and the cabinets you choose. However, we've pulled some numbers to help you get a rough idea of how much kitchen cabinets will cost if you have 30 linear feet of cabinets. On the low end, expect to pay around $2,100 just for cabinets alone, and on the high end, you can expect to pay closer to $15,000 for kitchen cabinetry. Here's a breakdown of the costs by the type of cabinet you choose.
Stock Cabinets
Stock cabinets are the most affordable option and come in standard sizes and configurations. These cabinets are generally readily available. While they are less expensive, your options for customization will be somewhat limited. Stock cabinets are the most affordable, with pricing beginning at about $70 per linear foot. So if you have a kitchen with 30 linear feet of cabinets (which is fairly common), you're looking at a minimum of $2,100 for entry-level cabinets – and that's before installation fees.
Semi-custom Cabinets
Semi-custom cabinets offer you more flexibility in terms of sizes and styles from which to choose. These cabinets are built after your order is placed. They cost more than stock cabinets and may take longer to deliver. Semi-custom cabinets often run between $150 and $250 per linear foot. So if you opt for that level of quality, your bill will likely start at from $4,500 to $7,500.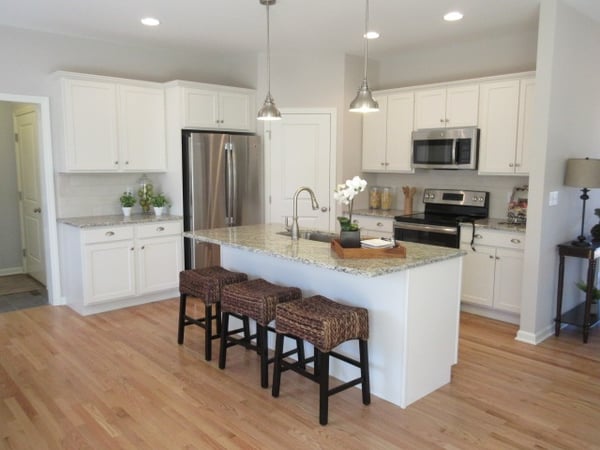 Custom Cabinets
There are pros and cons to custom cabinets for your kitchen remodel. Custom cabinets are handmade to fit virtually any standard you require. These cabinets are your most expensive option, but with that expense comes an increased number of options with regard to size, shape, and material. Hand-crafted custom cabinets often cost $500 or more per linear foot, meaning you can expect to pay $15,000 or more for cabinets.
After you've decided on the style, the type, the number, and the placement of your cabinets, you can choose the hardware and the countertops want to finish off the cabinets. Here's how to pick the right kitchen countertops.