How to Pick the Right Kitchen Countertops for a Middletown Custom Home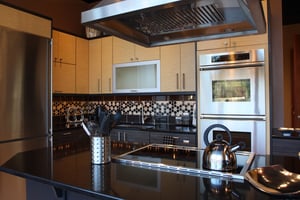 Kitchen countertops come in a whole array of materials, colors and strengths as well as costs. Choosing the one that's right for your Middletown custom home takes some research, knowing what your lifestyle is like and understanding what will work for you for the next few years. Once you know the answer to those questions, you can decide which of these options is ideal for your kitchen renovation.
Granite
This form of natural stone is the Rolls Royce of countertops, as well as being one of the most popular. You can get granite slabs from most home centers and décor showrooms, but your home renovation contractor is likely to be able to get the best deal for you. The stone comes in a selection of shades, including vibrant blues and reds, marbled whites and browns and even black.
You can usually order it cut to size so you can avoid seams where possible. Granite is cut and polished, then coated with a sealant to make it stain resistant. It's easy to wipe down as long as you avoid abrasive cleaners and use cutting boards.
Wood
Wooden "butcher's block" countertops are currently a popular kitchen trend, for a few very good reasons. They're attractive, warm and accommodating, affordably priced and particularly sturdy and stable. The blocks come in three basic construction styles:
Edge grain, which is made by joining the longitudinal edges together to form the working surface;
Flat grain, which is made from boards laid so that the flat surfaces form the working countertop; and
End grain, which is the strongest and most expensive method. This uses small, rectangular blocks arranged so that the ends are on the surface. This is also best for cutting surfaces because knife marks are less obvious and the softer grain causes less damage to the blade edges.
Ceramic
Tiles aren't only for the floor. They can be used to great effect on kitchen countertops in your Middletown custom home. Just make sure you choose tiles that are graded for floor or counter, because wall tiles may be too thin to withstand the pressure of working on them.
Your home renovation contractor will likely recommend ceramic countertops be laid over a three-quarter inch thick plywood base, which is topped with half-inch thick cement backerboard. This gives a more stable installation that if you fit the tiles over a plywood substrate or directly on existing plastic or laminate countertops.
Ceramic works best in secondary work surfaces such as kitchen islands, peninsulas or wet bars.
Laminate
Speaking of laminate, the old "Formica" type countertops are still around, and provide a durable, hardwearing surface that can survive for years in the toughest kitchen environments. Made mainly from kraft paper that is impregnated with resins, it's available in hundreds of colors, textures and patterns.
Matte finish laminates are the best choice for countertops, and if you're planning to use it in your kitchen ask your home renovation contractor to get seamless, ready-to-install pieces.
Make the kitchen in your Middletown custom home a warm, inviting space with kitchen countertops that fit every aspect of your family's life.