Open-Plan vs. Traditional: How to Choose Between Them for a Middletown Custom Home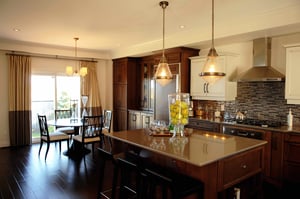 You may have heard some of the buzz surrounding open-plan homes, but you're wondering what all the fuss is about. Briefly, open-plan homes have a large, open area of space, usually on the main floor of the home, which holds the kitchen, living and dining areas. A bathroom or powder room might also be included. Open-plan homes are more suitable for some families because of their features.
Open-Plan vs. Traditional
Let's talk about open-floor plans, traditional floor plans and the features of each. Open-floor homes locate several rooms, either with no walls or only partial walls, to indicate where one "room" begins and the other one ends. As you consider the options for your Middletown custom home, it's a great idea to look at each type of floor plan. Try to get sample floor plans of each type of home layout so your decision is better informed.
Traditional home plans are those we've seen throughout the decades—these homes have individual rooms closed off by full walls and doors, such as bathrooms and bedrooms. It makes sense to keep certain rooms closed for the sake of privacy.
When Open-Plan is a Good Choice
Homes constructed with open-floor plans are more suitable for certain types of individuals or families. If you don't have to worry about certain types of artwork, this type of home may fit your needs. These family characteristics will fit more easily into an open-floor home:
Children are close in age.
Family members aren't worried about lack of privacy
Children are older and able to clean up after themselves
Let's take a look at each characteristic. Families whose children are at similar ages won't have to worry about creating private areas for teens that need or crave privacy. Younger children scatter their toys and belongings from one end of the room—or house—to the other. If you don't care about containing a room full of toys or finding a private area for an angst-ridden teen, an open-floor plan may fit your family's needs.
If you like lots of natural light streaming into all areas of your Middletown custom home, an open-floor plan may fit your needs. Homes built along this model tend to use more windows than walls, so you'll be able to take advantage of daylight. A kitchen is an excellent example—an architect can draw up a floor plan that situates the kitchen alongside the living and dining areas, creating a "great room" effect.
When You Should Choose a Traditional Floor Plan
Both open-floor and traditional floor plans have their advantages. Some open-floor plans are so open that even the bedrooms open onto the living room and kitchen. For couples with small children or several children, this may not be ideal.
In an open-floor plan, noise tends to travel farther. If you need quiet in some areas of your home, such as a baby's room or a home office, a traditional floor plan will suit your family's needs more closely. Home offices, craft rooms and guest rooms should be enclosed as well.
Determine What Type of Home You Need
If you have a better idea of the type of floor plan you may want, it's time to choose between an open-floor and a traditional floor plan. Look at your family's circumstances. If your children are growing up and out of your home, an open-floor plan may meet your new needs.
If you work from home, a traditional floor plan that allows you to devote one room for a home office may be a better choice.