Open Floor Plan—The Right Type For You? 5 Ways For Middletown Buyers To Know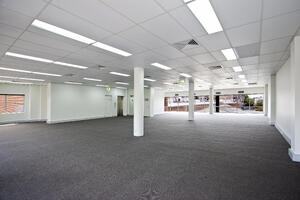 Over and over, we hear the same phrase when remodeling or building new homes in Middletown (and everywhere else too) these past few years. That phrase is probably now old to you as well:
The open floor plan.
What it means exactly: that rooms blend or merge into each other, specifically the kitchen/dining/living area. Homeowners all over the United States began knocking out walls a few years ago, and the trend has become ubiquitous. It's so commonplace, in fact, that most new homes are straight-out built without any walls in this space. As contractors, we've come to expect it that much. However, we've also found that many homeowners take the trend blindly and never ask themselves an important question:
Is an open floor plan right for you?
The truth is, it's not the best layout for everyone. For the good candidates, it's perfect—for the less-than-ideal candidates, it can actually create quite a bit of unexpected and unnecessary frustration.
Say an emphatic "Yes!" to an open floor plan for your new home in Middletown if you…
- Frequently hold get-togethers and parties with 20+ people, where you feature your own home cooking or potluck-style meals that require preparation by guests.
- Are a parent with young children, and you want to be able to supervise in the playroom while you cook or do laundry.
- Find that your kitchen is darker than the rest of the house because the windows are smaller, or because of the direction that it faces.
- Have a seamless style, prefer minimalist decorating, and rarely leave clutter sitting around. Your style will coordinate all of the rooms throughout the entire house.
Reconsider an open floor plan if you…
- Tend to leave dishes in the sink overnight. Open sight lines throughout the living area—and in some cases, the entire floor of the home—mean that you can see those dishes from almost anywhere in the house, making the entire home look messy. (And we should also note that if you're the type to have a bowl of fruit sitting out, an open floor plan will allow fruit flies to migrate further.)
- Are sensitive to sound. In an open floor plan, sound will travel just as easily as the sight lines to conveniently supervise young children. A gurgling dishwasher, clanging pots and pans, or even a hilarious telephone conversation will travel all over the house into the common areas. And if you dislike the particularly loud sports game that someone has decided to watch in the living room, you can forget it – the television is both visible and audible to the cook, whether he or she wants it or not. If the stairway to the bedrooms is right off the kitchen, you will probably find that sound and smells will travel upstairs. Homemade ravioli is great in the kitchen at dinnertime, but not everyone wants to smell it while going to sleep that night, too.
- Collect antique furniture or lots of memorabilia. With an open floor plan, everything must be coordinated. That means colors, styles, and shapes. Your paint palette must transition into all of the rooms that are visible from the kitchen. If you're a collector of antiques or other items, chances are not all the items will match, so you'll spend a lot of time coordinating the open spaces with each other.
For more tips on floor plans and what's right for your new Middletown home, check out this blog post.