Floorplan of the Week: The Cedar at Ridgeview for Upstairs/Downstairs Living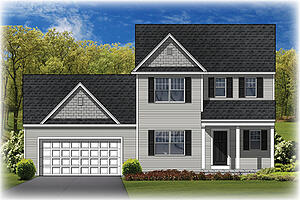 If you're looking for a Colonial style home that separates upstairs bedroom space from downstairs living space, you'll want to check out the Cedar Colonial at Ridgeview. This beautiful 1,870 square foot home has everyday living space on the main level.
Enter through the 2-car garage (which includes extra storage space) into a drop zone room with a laundry room to the side—a great feature if you have children coming home from soccer practice or playing in the mud! Then step into the open kitchen/dining room/great room area where you can cook, eat, and entertain without being cut off from family or guests.
Speaking of guests, they'll enter under your covered front porch before passing through the foyer into the open spaced living area. And there's even a nice suzed flex room off the foyer that can serve as a home office or a guest bedroom.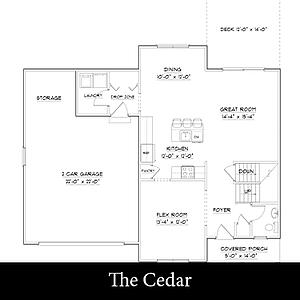 When it's time for bed, the second floor offers three bedrooms—including a master bedroom with master bath—and a second bathroom for the other two bedrooms. It's a great plan if you have smaller children and want rooms for them that are separate from the action on the lower level.
The whole family will enjoy the scenic setting near Higby Mountain and Tynan Memorial Park. Or you can take advantage of Middletown's protected open space.
Click here for a closer look at the Cedar floor plan. We'll be featuring other great Ridgeview
floor plans in future posts!