Open But Well-Defined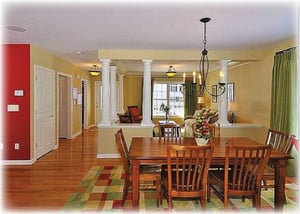 Open design floor plans are everywhere these days. Whether homeowners are building a new custom home, or remodeling an older home, they love the spacious feel that open design brings. It's more conducive to entertaining because guests feel free to wander from one space to another. And when there are family get-togethers, nobody gets stuck alone in the kitchen.
For some people, however, the move to an open floor can make them a little nervous. They're concerned that things will be too open. They don't want their kitchen/dining room/family room to feel like an "auditorium."
That's where good design comes in to help define the specific areas within a larger open space. The photo you see here (from one of our Cobblestone homes in Meriden) gives you a sense for how an open design can still clearly define specific rooms. You can take a closer look at the detail here, as well as getting a different angle.
The uniform hardwood flooring and lack of interior walls ties all of the spaces together—and makes the whole area feel more spacious and light. The area rug under the dining table helps set that space apart. The red wall is a clear demarcation of the hallway leading away from the dining room/living room. And the white pillars (and the distinctive ceiling above them) clearly designate the family room/living room—without obstructing the view or closing off the space from the other areas.
People often assume that open floor plans are extremely casual, but that's not necessarily the case. While it's definitely open, the space you see here is actually comprised of a formal dining area, and a formal living room. The space also opens up to a family room (unseen in this photo). What's nice about that is that the homeowner here gets all the advantages of an open floor plan without having to sacrifice elegance.
It all begins with finding the right plan—one that fits the needs and tastes of your family. Here's a helpful article about what to look for in a floor plan that will help you choose a plan that fits your family's lifestyle.
Is an open plan right for you? That's your choice. But it's good to know that you have options!