Which Room in Your CT Home Is Most Important to You?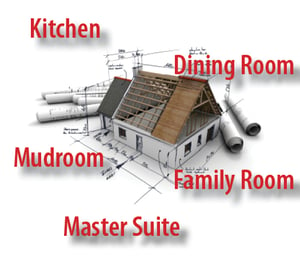 As custom homebuilders, we pay close attention to the details of every room in every home we build. But as a homeowner, there are probably rooms that are more important to you than others. That doesn't mean you'd settle for less quality in those rooms. It simply means that there are some parts of your home that will get more use and need to fit the flow of your family's lifestyle. And not every family is going to agree on what's most important.
That's why being able to look at a variety of floor plans can be so helpful. That exercise allows you to see, not just one room at a time, but how the various rooms in a home work together to create the kind of living space that works for you. It allows you to walk through a home in your mind's eye before you build it.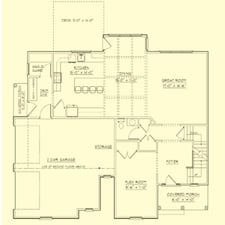 Let's use our Spruce Colonial floor plan as an example (Click here for a more detailed look at the plan you see pictured here). The Spruce is designed recognizing that most of us enter our homes through the garage. That's why it has an entryway off the garage (you could call it a mudroom if you want) where there's a drop zone, a bench, and cubbies for temporary storage of things that really don't need to find their way into the house. There's even a walk-in closet for coats that could serve as an overflow pantry for the kitchen. You can probably imagine yourself using this space as you come in from the car. That drop zone or mudroom may not seem all that sexy to you—but it can be a really important room for keeping dirt and clutter out of your home.
Then there's the kitchen. For many of us, the kitchen is the heart of the home. Walking through this kitchen in your mind gives you a sense for what it would be like to prepare meals and to eat/entertain. There's casual dining seating for the family that leads into a larger dining area that's visible from the kitchen. And that, in turn, leads into a spacious Great Room. You get a sense for how the open design architecture would work (and if it would work for you.)
There's also a "Flex" room that you can make into a study, a library, or even a home office—depending on your needs and desires. And the floor plan let's you imagine spending some down time on the covered front porch or on the deck in back.
So which room is most important in this layout? That's really up to you. What's perhaps more important is how the whole design works together—or whether it even matches the way your family lives.
It's possible that you might look at this plan and think that what you really want is something that has everything (including bedrooms) on a single level. If that's the case, you might want to take a virtual walk-through of something such as the single-level Rosewood. You can undertake the same exercise—without leaving your chair.
The most important rooms in your home are the ones that make you comfortable and feel at home. So take your time before you build to mentally walk through a few floor plans to make sure you choose a plan that fits the way your family lives.