Connecticut Home Renovation: 5 Tips for Choosing the Right Living Room Wall Color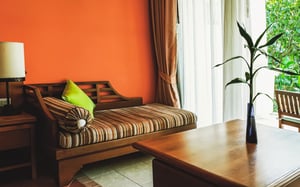 Picking the perfect color palette for the living spaces in your Connecticut home renovation isn't always as easy as choosing a shade you like. It needs to work with your furnishings, your moods, the amount of light in the room and various other factors. Here are 5 tips for finding exactly the right color for your walls.
Tip #1: Look for a Pattern
If you have patterned anything—upholstery, rugs or artworks—picking the dominant shade is a great place to start. Oriental rugs, for example, offer a multitude of rich colors to choose from, which mix well with plain furnishings. If you prefer neutral wall colors, for the whites, greys and beiges in your patterns and match up with those.
Tip #2: Make Your Accessories Pop
Contrasting accessories are a great way to add a splash of color to any space, but they are also inspiration for your living room walls. A pair of bright pink cushions and throws livens up the dullest beige sofa, and this opens the door for some great wall options. Try matching the walls to the pink of the cushions, or tone it down with a bit of beige for an in-between, pastel pink. Alternatively, consider including wallpaper as an option for your Connecticut home renovation—pink and beige, for example, would look fabulous against a backdrop of pale gold wallpaper with rose petal graphics.
Tip #3: Start with a Focal Wall
A feature wall gives your living room a focal point around which to revolve. A popular concept from the 90s, a single dark, velvety wall provides a backdrop for works of art or simply a building block for your palette. Carry the color throughout your accessories, furnishings and even flower arrangements for a room that's visually appealing and enables you to live with your remodeling job.
Tip #4: Consider the Room's Role
It's important to consider the role the living room plays in your life and that of your family. If you have young children who spend their days playing on the floor, you want a bright, cheerful room rather than a rich, sumptuous wall color. If you typically have adult friends and family members over for evening visits in the living room, a calmer, cozier shade is probably in order.
Tip #5: Work By the Numbers
According to This Old House, designers typically work on the basis of a 60-30-10 rule: Sixty percent of the color in a space derives from the walls, while 30 percent is contributed by the upholstery, floors and window treatments. The remaining 10 percent comes from accessories. So if you want a colorful living room, you need to brighten up your walls.
Color is one of the most effective ways to transform a room, and painting the walls during your Connecticut home renovation is an inexpensive, simple way to introduce it. As long as your home renovation contractor does adequate preparation and uses quality products, you can rest assured that you'll benefit from the investment.