Taking the Stairs (Literally!) in Your Middletown Custom Home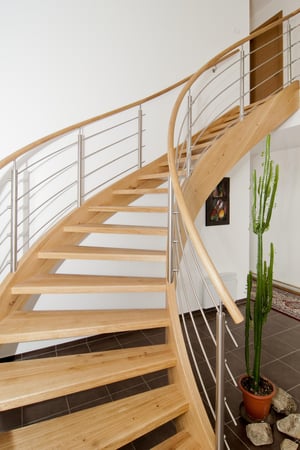 A staircase is a staircase is a staircase, or so the saying goes (sort of, anyway). It doesn't have to be true, however. When you're building or renovating a Middletown custom home, you have the ideal opportunity to make your staircase a thing of beauty and originality.
Types of Staircases
It all begins with the type of staircase you want. This depends heavily on the floor plan you choose and the amount of space available, although even in a constricted area you can play around with ideas. Basically, staircases fall into 7 different categories:
Straight stairs
Quarter landing stairs
Half landing stairs
Single or double winder stairs
Arched stairs
Spiral stairs
Compact stairs
Your choice of staircase also depends on the age of the home's occupants and whether you're conforming to universal design for the future. Chair lifts, for example, work better with some types of stairs than others, so it's important to think ahead when you make your choice.
Staircase Models
We aren't going to get too technical here, although the different staircase models require different methods of building that affect the treads and risers. Basically, the choices that you need to make as the owner of your Middletown custom home are whether to go for squared or rounded edges, open or closed risers and the surface finishes.
Railings
Here's where you can get really creative and carry the overall design of your home through to the staircase. Whether you go for plain, functional railings or seriously decorative ones, the railings give your stairs a visual presence and complement the character of your home. Types of railings to choose from include:
Solid glass panels, outlined and mounted in simple metal frame
Molded metal railings, which provide an artistic flair
Rustic wooden "split-pole" options
Carved, curved wooden rails – ideal for a spiral staircase
"High-tech" waterjet-cut steel panel railings
Take a look at this slideshow from Bob Vila for images of these exciting railings.
Finishes
Last, but definitely not least important is the surface finish you choose for the staircase in your Middletown custom home. Whether you go for soft, plush carpeting, high-shine laminate, rustic hardwood or functional ceramic tile, the material defines both the personality and the safety of your stairs. Here, again, you'll need to take into account the age and fitness of the occupants, as well as the amount of activity you expect the staircase to handle. Take your stairs to the height of beauty and make them a focal point in your home.