Purposeful Powder Rooms in Middletown: What's the Return?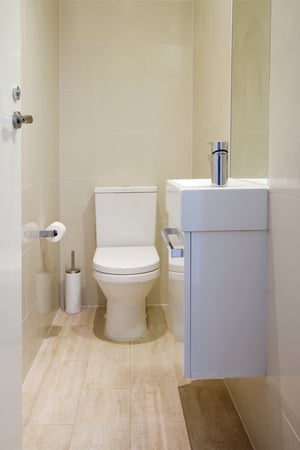 The addition of a powder bathroom as part of your Middletown home remodel can provide you with a range of benefits. First, there is the increased market value of your home, which can go up by the remodeling of a small space into a powder room. That isn't the only returns you're likely to get from installing one, though.
Return on Investment
The remodeling ROI generated by adding another bathroom to your home is significant, according to Remodeling Magazine's 2014 report for the Middle Atlantic region. Statistics show that for an expenditure of just under $40,000 for a mid-range bathroom addition, you can increase the resale value by a full 50% or almost $20,000. A powder bathroom isn't likely to set you back by quite so much, but the return should be proportionate in the first year.
Where to Add It
The biggest problem most Middletown homeowners have with a home remodeling project to add a bathroom is where to locate it. Typically, you need at least 16 square foot to build a powder room, but according to This Old House you can fit it into 11 square feet and still comply with the International Residential Code. That means it could fit snugly into an alcove under the stairs or a converted main floor closet, which will add space to your living area.
Design Ideas
As with any small spaces, maximizing the floor plan is vital to enable you to make the most of what you've got. To help you plan out your ideal Middletown powder room, here are some design ideas:
Use wall-mounted fixtures such as the sink to save on floor space. This gives the user enough room to stand without bumping his toes on the base.
Pocket doors save on space and give the powder room a high-efficiency touch.
Mount a small shelf above the sink to keep soaps and lotions out of the way but still in reach of the hand washing area.
Paint the walls and ceiling with light colors to give the illusion of size. This is particularly important if your powder room is under the stairs or in a similar small space. Introduce bold splashes of color in the accessories, rather than the décor.
High-gloss finishes reflect the natural light and help give the impression of size for the room.
Consulting with a CT home remodeling contractor is your first step towards adding a purposeful powder room to your home.
Benefits
Adding a powder room gives you a number of benefits in addition to the financial ones.
First, there's the obvious one of having a second space when the whole family is busy preparing to leave the house first thing in the morning. Minimize the fights over bathroom space by allocating time slots for the main bathroom, while the powder room gets the overflow of people.
Then there's the advantage of having a guest bathroom that's usually on your main floor, reducing the need for guests to travel upstairs to your private space.
If you happen to get a clogged toilet or sink, it's ideal to have a second option to use until the blockage is resolved, too.
Adding a second full bathroom might not be an option for your Middletown home remodel, but you're almost certain to find space for a small powder room. And that can make all the difference in the world.