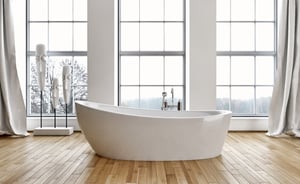 The bathroom in your Connecticut custom home is starting to look a little. . .tired and worn around the edges. Maybe the tub is showing its age or the fixtures are looking dated. It was great when you moved in, but it's time for a facelift.
The bathrooms in your home don't have to be only the places where you bathe or shower. Why not go all-out and create a beautiful little room where you can escape the day's stresses as you relax in a warm, scented bath?
Decide It's Time
It may have been several years since you even painted this room of your house. Maybe the paint doesn't look as fresh or the color is out of date. Cleaning the tub, sink, toilet and shower can take their toll over the years as the porcelain wears away. Soon, you see black marks that aren't smudges.
Find a Home Renovation Contractor
First, sit down with a home designer and discuss your needs with them. Are you looking for elegance, comfort or more space? Maybe you're looking for more than one change, such as additional space and comfort.
Decide what's most important for you and your family and ask the designer to help you create, on paper, your ideal bathroom. If comfort is high on the list, they will have several suggestions you can think about. Maybe several of you crowd around the mirror every morning, so you need extra space. Not a problem! Your designer can sketch out plans that give you more needed room.
Go for Size
If you're not afraid to create a bathroom that doesn't look like every other bathroom in your community, think about redesigning your personal space—without a tub. Why not?
For your master bathroom, create an unusual retreat. Ask your designer about installing a larger shower. Maybe the shower walls can be clear glass, which will add so much to the look of this room.
Create an Escape
Bathrooms of the past contained a sink, toilet and a tub or shower. Some contained a shower/tub combination. For the function of the room, these were all that was needed. But today, you may want to pamper yourself.
Maybe you want form over function. Bathtubs usually sit against the farthest wall of the bathroom, which is necessary if the room is a small one. If you're going to renovate your bathroom, go big! Instead of keeping a bathtub nudged against a wall, ask your designer to create a room where you can have a free-standing tub. This will enable you to create that refuge you want. Maybe you want natural wood. Why not? If it has been treated to withstand humidity, wood can enhance the look of your special retreat.
Add New Features
Okay, the picture of a tub surrounded by candles has been done, done, redone and overdone in movies and home magazines. It's time to move beyond that. Why not create that retreat for yourself—and include a small fireplace at one end of the tub? Maybe you can add a large window somewhere in your bathroom.
If you've always been attracted to the unusual, a vessel sink could fit into your design ideas. The sink sits above the surface, which leaves you room to store cleaners and other necessities. Depending on your preferences, you can also choose a countertop made from granite, stone or a resin-based material.
Remember, this is your room in your home. Ask for what you want.