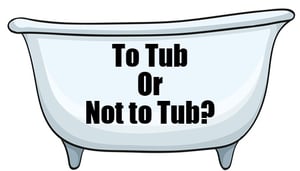 If you're gathering information about building a new home, you may have come across conflicting opinions in what could be called, "The Great Bathroom Debate." It's hard to say whether there's actually a trend evolving, but there is discussion about what features to put into a master bathroom. That debate seems to be centering around the bathtub.
For many people that may seem like a "no-brainer." Of course a bathroom will have a bathtub. But what people want from their master bathroom has changed over time. There has been a strong trend toward creating luxurious bathrooms with large soaking tubs. Those relaxing and soothing tubs are still quite popular with a lot of people, but there's also been a more recent move toward larger showers (including steam showers) that use less water. And in some homes, owners are opting to eliminate the bathtub altogether.
How does that impact the resale value of a home? Real estate agents agree to disagree on this topic. Some feel that a master bathroom without a bath makes the home harder to sell. Others claim that owners now are more interested in oversized showers and don't really care about the tub (whether it's a spa-like tub or a conventional tub). And there are yet others who say it's a moot point as long as there is a tub somewhere else in the home (for smaller children or people who prefer baths to showers).
It really boils down to what you want for your master bathroom. Sure, you want to think about resale potential as you're designing and building your home, but the truth is, you're building your home for your enjoyment—not for someone else. Besides, remodeling is always an option later.
It's your choice. And that's something that's reflected in the new homes at our Royal Oaks Community. The homes in this new community on Wallingford's picturesque west side give you both options. To tub or not to tub? That's up to you!