4 Really Smart Storage Space Ideas for Your New Connecticut Custom Home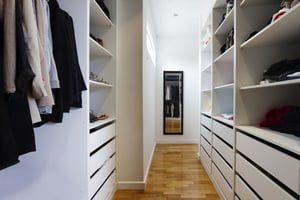 Almost every family, no matter the size of their home, needs additional storage space. From outdoor clothing and rain boots to Christmas decorations, out-of-season clothing and items not being used, you need to be able to store things away so they don't clutter up your living areas.
The Need for Storage
You don't leave your Christmas tree or decorations out year-round. Nor do you leave the storage boxes for Christmas items out. They would get in the way and make moving around your home, let alone keeping it looking attractive, difficult. Where do you store items you're not currently using, but that you will need in the foreseeable future?
If you have a garage, you'll be able to make use of unused wall space here. While the garage isn't one of the more "glamorous" areas of your home, it is a much-used spot. Here are some smart ideas for garage storage:
Add a carport in front of the garage, leaving the full garage for storage space.
Make use of wall space with some of the sophisticated storage methods available.
Look at Unused Space for Additional Storage
Think of kitchens you've had in the past. How much wasted space did these rooms have? Even tall, narrow spaces can be utilized. If you like to stock up on wine, consider turning a wall divider into a wine rack.
Other kitchen storage considerations include incorporating plenty of room for your cookware. As your builder works on the plans for your new Connecticut custom home, ensure that he has included the room you need for dishes, cookware and other kitchen items you use. Look under the cabinets. Your builder can easily install baseboard drawers so you can store shallow or flat items, such as bakeware, foil, parchment paper, towels and potholders. Even if you don't plan to have a large kitchen, you can still make use of what would be "wasted space." If you plan to have an eat-in kitchen, a pullout cabinet can give you additional, needed space.
Get Imaginative
Don't be afraid to use your imagination. Discuss all areas of your new home with your homebuilding contractor. Bring up your storage needs and find ways of incorporating them into the design of your new home. A small bedroom can incorporate under-bed storage. The builder can build a platform that holds a roll-out bed and several dresser drawers in a very small bedroom.
A two-story home has lots of unused space—right under the stairs! Use this space for books, out-of-season clothing, a book nook or even a large wine rack.
Talk to Your Builder About Storage for Your New Home
Another room of the home that may be short on storage is the bathroom. After fitting in a sink, toilet and a tub or shower, you don't have much floor space left over! When you want to store toiletries and towels, it would be convenient to store them in the room where they will be used.
Avoid using up some of that precious floor space by having shallow cabinets with closing doors and drawers installed. Today's trend is toward larger bathrooms, so don't be afraid to ask for the space you and your family need. Incorporate more space by adding a pedestal sink or a wall-hung toilet as well.