Make a Playroom from Unused Space in Your Wallingford Custom Home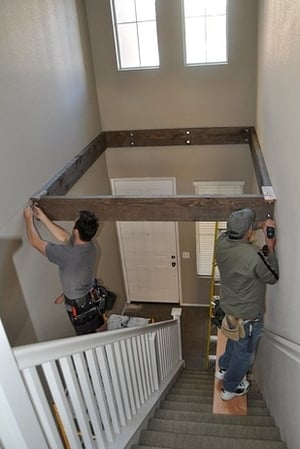 It's time. Now that you and your partner have children, all their toys are scattered from one end of your current house to the other—or that's what it feels like. What you need is a room set aside for them, their playtime and all their books, toys and painful-to-step-on building bricks. But what if your new Wallingford custom home doesn't include a playroom? Well, with just a little imagination and closer study of those building plans, you'll be able to come up with some excellent ideas.
A Small, Dedicated Playroom Can Work
Maybe, if you look once again at your floor plan, you can change the purpose of one room, making it into a playroom for your kids and all their toys. That room doesn't have to be big. If you and your partner exercise a little creativity, you'll able to come up with imaginative storage ideas, such as:
Hanging a large, open-weave hammock to hold stuffed toys and board games.
Fitting "hideaway" shelves inside a closet, which can hold buckets of building bricks, games and other toys.
Installing recessed bookshelves in one section of the room, which will help you save on valuable floor space.
Garages and Closets, Oh My!
Your garage can house the playroom. If you're thinking that you don't want your kids playing on a cold concrete floor, don't worry! Install easy-to-clean tile or rubber flooring, add throw rugs, and then bring their toys and storage items in. Arrange everything and there you have it—a playroom in the garage.

Beyond the garage, you still need storage for everything your kids play with. Ask about including a large closet in the room you want to turn into a playroom. A walk-in closet could serve as storage for everything—and we mean everything—your kids play with. This means the actual playroom will be freed up for true playtimes.

Don't Forget About Dead Space
When every square foot of room is already dedicated for other uses, such as bedrooms, a home office and a crafting room and you can't change anything, look up! Especially if you're building a two-story Wallingford custom home, the dead space above the landing in between the levels is the perfect spot to make into a playroom! By adding sturdy supports on the walls, your home renovation contractor can convert that empty, unused space into an open, doorless room in which your kids will look forward to spending countless play hours. Just bring in some bookshelves, throw rugs and storage systems and let 'em have at it!
Add a Loft to Your Floor Plan
If you have high ceilings, you may be able to incorporate a loft into your new home. Find a tall ladder that you can have permanently attached to the end of the loft and make that new space into your children's playroom.
When you think about it, you can probably identify dead space and areas you haven't even considered that can become a playroom. Just put your and your contractor's minds to it.
Image source: Apartmenttherapy.com