What's On Your Wish List for Your CT Custom Home?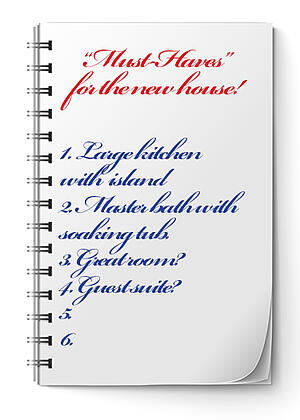 People who think about building a custom home often do so because they want certain amenities that they might not be able to find in a standard design home. It's a safe bet that a great kitchen is high on their list of things they have to have. Having a spa-like master bathroom is also a perenial favorite.
Even though those things are kind of obvious choices, homeowners don't spend all of their time in the kitchen or the bathroom. What are the other amenities that you might not think of immediately—but would definitely want in your Wallingford area home?
No Such Thing as a Closet That's Too Big: Closets may not sound all that sexy, but according to the National Association of Homebuilders (NAHB), walk-in closets in the master bedroom are the single most requested item. Homeowners want bigger and better closets. In fact, one survey reported that almost a third of homebuyers indicated they would give up other amenities in the home for his-and-her walk-in closets.
Longing for an Efficient Laundry Room: Who thinks about the laundry room when designing a dream house? Apparently a lot of people. The NAHB says that an efficient laundry room is the number two item on homebuyers' minds. When homeowners think about their houses, they are less inclined to think of them as showcases and more apt to think about things that make life easier. Anything that makes household chores easier or more pleasant is a real plus. That's why many new homes feature built-in ironing boards, space for folding, adequate storage—and even skylights—in the laundry room.
Higher Ceilings: Homeowners aren't necessarily looking for huge homes, but they do want open space. One way that's happening is by increasing ceiling heights on the first floor to nine feet instead of the traditional eight feet.
Natural Countertops. Homeowners continue to gravitate toward natural stone (and even engineered stone) materials for countertops. And one trend that appears to be picking up steam in 2015 is for more natural-looking materials (both stone and wood) for the kitchen. Instead of highly polished surfaces, many are opting for materials that look more like they do in their natural state.
What's on your list of "must-haves" for your new CT home? Think beyond the obvious and consider those elements that will help you enjoy your home the most. That's the kind of home we'd love to help you build!