How to Design a Wallingford Custom Home That Offers Good ROI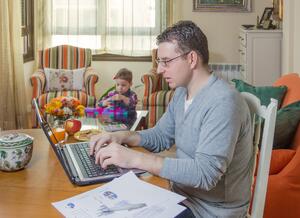 Whether you're building a new Wallingford custom home, or renovating a fixer-upper to turn it into your dream house, you're likely wanting to choose a design that delivers a good return on your investment.
That means incorporating practical, functional (as well as beautiful) options that are not so unique that nobody else wants them in the future. Otherwise, you might find it difficult to sell the home when the time comes.
These popular "staples" in custom home design continue to offer value and good ROI, year after year:
Extra Bathroom/Powder Room
Adding a second bathroom if you don't already have one offers one of the highest returns. Even if you have two bathrooms, installing a powder room on your main floor can deliver a return of up to 62% of your costs.
If you have a finished basement or attic bedroom, an en-suite in the same area is also beneficial, because it increases the accommodation potential of the home for buyers with extended families.
Finished Basement
In the larger, family-type Wallingford custom home that is a popular choice for buyers with children, a finished basement can be a major draw card. It can be used for anything from a teen's bedroom to a soundproof home theater, or a secure playroom for little ones. Even if you don't foresee ever using it for anything more than storage, by having it well insulated and building smart storage solutions you can optimize your use of the space.
Attic Bedroom
Attics are one of the most under-utilized spaces in modern homes. Whether your attic area is large or tiny, with some clever finishing you can turn it into:
a guest bedroom,

a reading nook,

a games room, or

an ideal spot for some quiet time to do yoga, meditate or whatever your thing is.
Install a skylight or some large windows for extra brightness and to provide you with a view to die for. Creating an attic bedroom in your Wallingford custom home can bring you an ROI of up to 73% of your cost.
Mudroom
One of the hardest working rooms in the house, especially in winter, a mudroom serves a multitude of purposes. It's usually one of the least glamorous rooms, but it provides you with closet space for coats, somewhere to leave your wet, muddy boots and to hang up the dog's leash.
Home Office
With more and more people giving up commuting and working from home, a home office can be a major attraction in a Wallingford custom home. Even if you don't need a full-time work area, it's a room that can be comfortably used for reading, children's homework or just to escape the hubbub of the household. A home office renovation typically offers an ROI of around 43%, which can be higher if you focus on built-in storage space instead of desking that can limit the options for future homebuyers.
Attractive Entryway
If you're renovating to sell, an attractive entryway is one of the most important pieces of ammunition in your arsenal. According to the National Association of Realtors, an updated steel door entryway tops the list of remodels that pay off, with an ROI of almost 97%. It also adds significantly to the home's curb appeal, which is important if you're putting the house on the market.
Make every dollar you spend on your Wallingford custom home count towards its value, by choosing remodeling projects that maximize your investment.