When Single-Level Living Makes Sense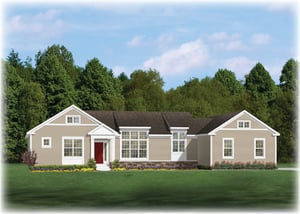 Some homeowners love the idea of separating private rooms (bedrooms and bathrooms) from so-called common rooms (such as kitchens, family rooms, living rooms, or dining rooms). Some families with smaller children prefer being able to put the young ones to bed away from the noise and distraction that often comes with common spaces. There are times, however, when single-level living makes sense.
If you're considering plans for a new home in Connecticut, you may want to take some of the following facts into consideration before you make your final decision.
Negotiating Stairs:

The most obvious advantage that single-level living offers is the absence of stairs. Families with very young children often find this an attractive feature. They don't have to worry about installing protective gates to keep little ones from taking a tumble down the stairs. But the absence of stairs is also attractive to those who plan to remain in their homes as they age. An increasing number of mature adults have indicated that they plan to stay in their homes after retirement. Not having to struggle with stairs is a big plus. And not having to move after retirement makes buying a single-level home now more attractive.
Maintenance:

The ease of maintenance for single-level homes is also an attraction. Lugging vacuum cleaners up and down stairs isn't everyone's idea of fun. Even exterior maintenance is generally easier with a single-story home plan. Painting and gutter maintenance are much easier on single-floor plan homes.
Ease of Expansion

: It is relatively easy to add a sunroom, a connecting patio, or a deck to a single-level home. Adding on to a two-story home can require expensive structural analysis before construction (although it should be noted that adding a room such as a sunroom may require foundation work, which adds expense, too).
The fact of the matter is that some people simply prefer single-level living and others prefer the options that a two-story home offers. That's why we offer both plans in our newly opened Bridgewater Estates development in Northford, CT. You can check out the floor plan for the Linsley you see pictured here. Or you can take a look at several of our multi-level floor plans to see if they're more in line with what you want. Either way, you'll love this new walkable neighborhood—nestled in the shadow of Totoket Mountain—that's just up the road from the Northford Center Historic District.