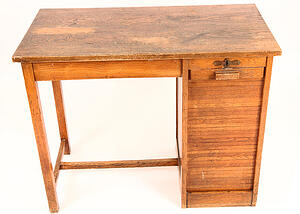 More and more people are choosing to work from their homes—at least some of the time. It's not just the entrepreneurial types that are doing it, either. In fact, studies indicate that as many as 30 million Americans work from home once a week or more. When weather or other commitments make a daily commute too difficult (or even impossible) it's nice to be able to get your job done without missing a beat.
Of course, just putting an old desk and an office chair in the spare bedroom doesn't really make it a home office. So if you're considering building a new home in Middletown, Wallingford, or Northford you maybe want to do a little planning ahead of time to create a comfortable and efficient home office before you move in.
So what are the things you want for your home office that will actually allow you to get work done efficiently? Here are just a few essentials:
Location

: Where you put your office really matters. If at all possible, locate it as far away from common living spaces (kitchen, family room) so that you can work uninterrupted. It's hard to maintain an image of professionalism on the phone if the dog is barking or you're constantly telling the kids to be quiet.
Outfit it like an office

: Your home office doesn't have to be sterile or uninviting, but it should be functional. It's OK to have a comfy chair for reading, but it's more important that your desk chair gives you the support you need—rather than just looking good. The same is true of your desk. Get one that accommodates working at a computer rather than trying to find one that matches the furniture in the family room.
Don't forget storage

: Real offices tend to have a lot of paper. Keep that in mind as you set your office up. You don't want piles of paper everywhere. Find a system that allows you to store things where you can get at them.
Visual relief:

In conventional offices there's a reason that people fight over the spaces that have windows. It's not that you want to stare out the window and daydream, but rather that your mind and eyes need an occasional break. Think about where to locate furniture and equipment so that you can catch a glimpse of life outside your office.
If you set up your office in your new home properly, you'll be amazed at how efficient you can be without all the interruptions and water-cooler chatter. And you definitely won't miss the commute!