Change is a law of nature. Seeds become trees and cocooned caterpillars butterflies; rivers cut solid rock into canyons; mountains crumble into boulders, then rocks, then pebbles, until they are no more than flakes of sand swirling in the ocean. This law is ubiquitous. You see the evidence of it working in your life as you grow and evolve. New opportunities, family members, or needs enter your life and alter your course irrevocably.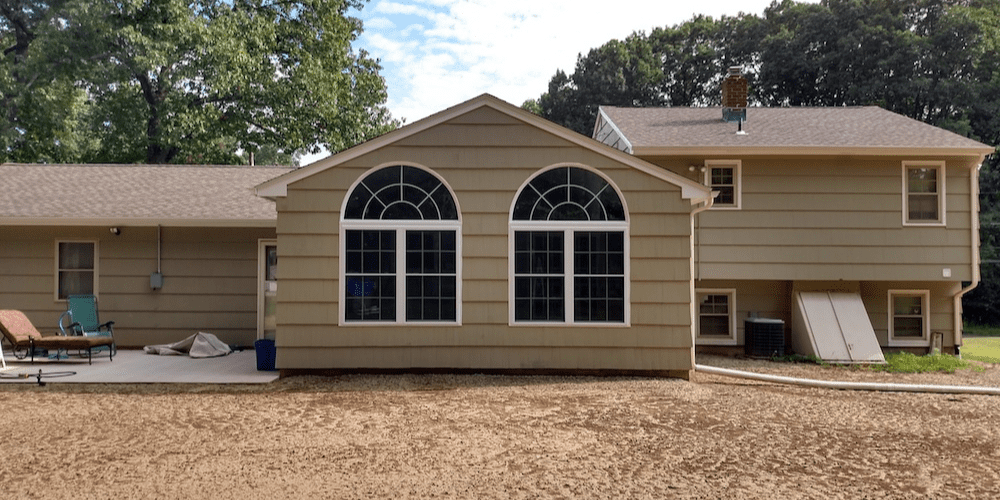 All that change is hard to keep up with — especially for your home. One day you look around and realize the quaint starter home you bought a couple of years ago is brimming with kids, relatives, pets, possessions, and other new additions you didn't have when you moved in.
Unfortunately, your home can't naturally grow alongside you. If it did, the entire remodeling industry would be moot. Still, when it comes to making your home match your current (and future) needs, you have options; a home addition is one of the best.
Is a Home Addition Right for You?
Size does matter – at least when it comes to your home. This is especially true for growing or multi-generational families that may need extra rooms as new relatives move in. If you're experiencing growing pains such as a lack of storage, bedrooms, or comfortable living space, these are clear signs you need to make a change.
Regardless of why you need more space, finding it is a challenge. One option, of course, is to build a new home that better accommodates your needs. But what if you really like the house and the neighborhood you're in? What if you've already decided that you want to stay? Home additions are ideal for people who love their homes but need some adjustment to feel more comfortable there. Individual home remodeling projects can expand your usable living space — or help you get more efficient use out of your existing space.
Where to Begin House Addition Planning
To begin additional planning, a homeowner should assess what their needs are right now and what their needs may be years into the future. Planning a home addition, such as adding a guesthouse, can meet the current need for more space for kids; many years down the road, the expansion can be repurposed as an in-law suite or even rented out for extra income.
Start by writing down your needs — be sure to talk to your family so you have a clear picture of what the whole unit has in mind. Think about the reasons an addition will improve your home and, more importantly, your life; focus on maximizing those benefits. Then shop around; talk to a contractor or two and anyone you know who has taken on a project of this nature before. The more information you have, the less overwhelmed you will feel, so don't be afraid to take the time necessary to make an informed decision.
What to Think About When Adding Onto a House
Like with any project, it's essential to have a plan before starting. Here are some factors you should consider before embarking on a home addition or renovation:
What is the ultimate goal? What is your dream house, and how can that dream be obtained?
How much can you afford to spend?
How long will the jobs take?
What materials will you use?
How could the renovations and remodeling increase your property value?


6 Popular Room Addition Ideas
A room addition is a great way to create a functional new space for your home without leaving your neighborhood. The cost of your project, resale value, and how long it will take depend on the type of home extensions you choose. Let's take a look at some of the most popular additions in Connecticut and how they add value to your home and life!
1. Second Floor Addition
Sometimes the only way to create space is to go up. This dramatically changes the exterior appearance of your home. Think creatively; your second story can include bedrooms, a family room, a media room, or the kids' playroom.
2. In-law Suite
Comfortable, safe spaces for aging parents or extended family are a growing trend. An in-law suite addition can be located anywhere. However, if you want to maximize privacy and autonomy, invest in an accessory dwelling unit. An ADU is a separate structure from the main house with its own entrance, exit, living room, bedroom, bathroom, kitchenette, and even laundry room.
3. Primary Suite Addition
Expanding your home is your opportunity to get the primary suite you've always dreamed of! A spacious bedroom, bathroom with heated floors, walk-in closet, and more can all be yours. Let a kid take over your old bedroom or turn it into a second living space.
4. Kitchen and Family Room Expansion
Create a larger, functional shared living space for food preparation and family entertainment. Remodeling your kitchen can do much more than simply giving your existing kitchen a facelift. As perhaps the most-used room in the house, a redesigned kitchen can turn a cramped and crowded room into one where you're much more comfortable as a family. By removing walls or other barriers between your kitchen and living room, you can open up your floor plan, making your home feel even more spacious.
5. Basement & Attic Remodeling
While this technically isn't an addition, remodeling your attic or basement into livable space gives your home the extra square footage you need. Projects like these unlock a lot of potential space that's going unused. And that space lends itself to many different options: a workout room, a home office, a playroom, or a spare bedroom.
6. Garage Addition
A well-designed garage gives you space for storing your car and belongings. You may also include a livable room above the garage or outdoor deck.
Instead of moving, customize your home to meet your needs with Sunwood Development.