The Ultimate Guide to Attic Remodeling
In my family, the attic is a place to dump stuff. Old photo albums from Grandma, the baby crib with the cracked headboard, unwanted Christmas gifts, and old magazines we think we'll read again but never do.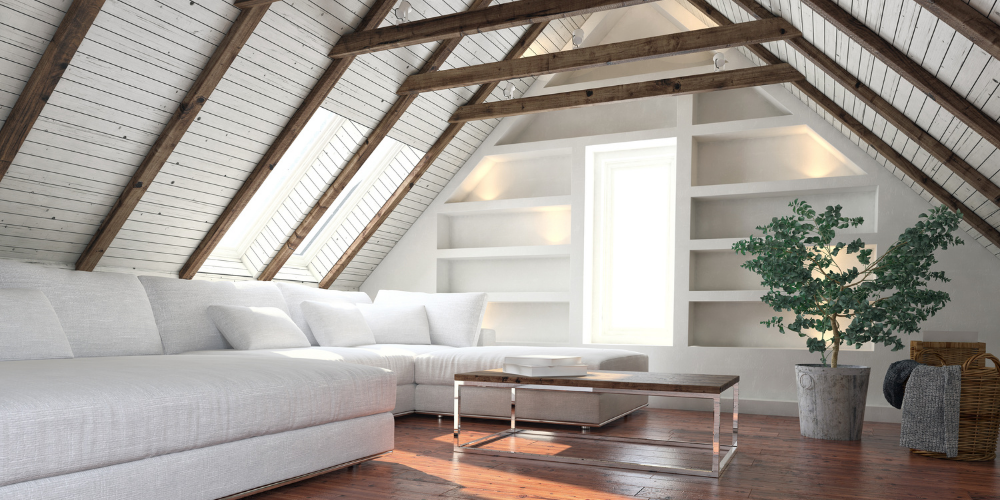 Lots of homeowners utilize their attics in this way — at Sunwood Development, we've seen enough to know. The good news is that an attic can be so much more than just a repository of junk. With a few renovations, you can achieve an attic transformation that will add value to both your home and lifestyle.
Assessing Your Attic
The first step to remodeling your attic is making sure it's suitable for the design you want to implement. Have a contractor inspect the attic; this is absolutely essential before you start any work because building codes can be finicky, and you must make sure you are able to meet them before you convert your attic. If you fail to do this, you could end up with fines or other headaches in the future, especially when you decide to sell your house.
Typically, a contractor checks there are at least two escape routes from the attic for emergencies. They measure ceiling height to see if it meets the requirements to be considered usable (which is usually around 7 feet). A contractor will also make sure the home can handle work being done in the attic. For example, joists on the floor may need to be supported so they are able to handle the added stress that comes from people moving around, and the weight of added furniture.
Making the Most of Your Attic Remodel
As your family grows, you might find you need more space, but moving into a bigger home just isn't a realistic option. That's why families living in small homes with attics may find themselves looking upward as they think of ways to expand their living space.
However, attics often become havens for no-longer-used items and cobwebs for a reason. Attics can be cramped, oddly shaped, poorly insulated, and have any other number of defects that may discourage you from utilizing the space. These defects are issues you need to tackle first with your attic renovations.
Heating and Cooling
Don't forget that you need to make your new attic living space comfortable. That means heat for the cold winter months and air conditioning for the summer months. Ask your designer to look at your current HVAC system. You may need to make some adjustments so you don't overload its current capacity. If needed, an HVAC contractor can make needed changes to your system.
Heat-Recovery Ventilators (HRVs)
Sounds intimidating and technical, but a heat-recovery ventilator is a simple concept. Typically installed in an attic or similar space away from the living area, an HRV circulates air from inside and outside, focusing on pulling moist air out of the house from the bathroom and the kitchen. The system works to retain as much of the original heat from the air as possible so that energy isn't lost within the home. Then, the unit moves in fresh air from outside, pumping the original heat back into it. The temperature in the home remains much the same, with only about 20 percent of the heat lost.
The same method works during the summer with the cooled air of the air conditioner. The chill is retained in the air being pushed outside, so there is very little loss of energy.
For a small family, a generator may need to run less often, whereas a joined family or one full of holiday guests may need more air movement and moisture reduction. For these times, the system can be adjusted to move more or less air to keep the air quality high even in times of change.
The cost of such a system can give one pause — at around $3,000, it's not an easy decision for most families. However, the benefits can mean safety, comfort, and monthly savings. This is especially true in climates where maintaining a constant temperature in the home is crucial along with air quality. In fact, these systems are even required in Canada — where winters require homes to be tightly sealed against the cold. Similar climates, though not quite as harsh, certainly apply to Connecticut homeowners.
Attic Accessibility
Having adequate space in your attic may be great, but only if it's accessible. And keep in mind that accessibility for a more mature adult may not be the same thing that it is for a younger person. If you're serious about creating a frequently-used living space, you'll want to ask your builder to make sure your attic is easily accessible and safe to get to.
Light
This is an often overlooked detail, but it can make a huge difference in the atmosphere of your space. Many attics are a bit short on light since they generally aren't designed to be living spaces. You can add skylights that let in lots of natural light or install some larger windows in the attic space.
The good news is that today's windows are much more energy-efficient than older windows. That means you can let more light in without sacrificing heating or cooling capacity. Additionally, letting in lots of natural light opens up the space and makes it feel even larger. You can also use mirrors in the space to capture and reflect light — again, creating the sense of a larger room. Of course, you'll also want to pay attention to the lighting that you install to make the space safe and comfortable.
Attic Remodeling Process
After your contractor secures the necessary permits, the focus will be on preparing the space to physically support being used by people. Joists and supports may need to be strengthened and will be secured first, followed by the subfloor. This is an essential step, as it sets the stage for the space being walked on. Building codes may also require that you have a staircase leading from the attic, so make sure to figure this into the budget and the timeline.
Next, your contractor will focus on the type of flooring that you've chosen, as well as drywall. During this step, you'll likely be asked about insulation, and don't be tempted to skimp on this for the sake of cost. The fact is, insulation will make the difference between whether your new space feels like a converted attic or an actual room. This is because your attic is the most vulnerable to losing air, being at the very top of your home; it can feel drafty and cold in the winters, and especially stuffy and hot in the summers. Also, it's very difficult to go back in and change your insulation once the entire project is done. Make the right choice the first time.
The rest of your attic remodel comes down to how you decide to use your space. You can try converting your attic to a primary suite or creating a small-attic studio apartment. Start by considering what type of space would be most useful for you and your family. Then, check these ideas for attic remodeling inspiration.
Attic Remodeling Ideas
Finished attics can add tons of square footage to your home's floor plan, and if you are looking for a great way to expand the size of your home without undertaking a major addition, this could be the answer. We've collected some amazing ideas you can use to transform all that space into something that really works for your family and your lifestyle.
Kids Playroom
No one likes seeing children's toys strewn about the house (or tripping over them), which is why an attic can make a great playroom for your kids. Convert your attic while your kids are young and they'll be able to use the space throughout their lives for playing, homework, and hangouts. This is especially great if your kids have a lot of toys because you'll have ample space to store them.
Here's a quick storage tip: If you have a slanted-wall attic space, ask your contractor if it's possible to use the edges or corners of the room as storage. This prevents the very low corners from being wasted space, and if you're converting the space to a bedroom, it helps the person in there to create a real living area.
Guest Suite
If you need space in your home for guests or your older kids are begging for their own space, then turning your attic into a bedroom might be the perfect solution. Most attics can be transformed into a few decent-sized rooms for visitors or children, or even into a separate apartment attic with an outdoor staircase.
Second Living Space
A large attic space can become an amazing family hangout space. Turn it into a cinema-style movie room or into a library and music room. Adding a casual hangout space to your home this way allows you to reclaim formal living rooms and dining rooms or just declutter your main living spaces.
In-Law Suite
One potential use would be to transform your attic into a mother-in-law suite. Increasing numbers of mature adults prefer to be in a family home situation rather than moving into a traditional retirement facility. Though attics may not seem like the optimal space for someone who may decline in mobility, you can research aging-in-place and in-law suite ideas on how to make these spaces safer.
Here's a quick tip: To completely convert your attic into an apartment, you should check with your city's planning and zoning office to find out what you need to do to legally add rooms like a bathroom or a kitchen space. Additions of this nature can cost a lot, so you don't want to launch into the project before finding out if you're zoned.
Master Suite
If your home is feeling tight and there's not enough room and privacy for everyone, then it might be a good idea to transform your attic into a master suite. You'll free up space on lower floors, and because most attics are large, open spaces, there's room for a bedroom, bathroom, office, and even a sitting area!
Home Office
Increasing numbers of us work from home. Simply setting up a desk in an old bedroom isn't optimal, but an attic just might be. An attic office is quiet and removed from the normal interruptions you'd face on the main levels of the house.
Multipurpose Space
Whether you're a workout-enthusiast or avid crafter, a remodeled attic can give you a space where you can intentionally engage with your hobbies. And You can store any related materials here as well, so they don't clutter the rest of the house.
Really, the only limit with a multipurpose space is your imagination. If you love plants and yoga, for example, you could create a plant-filled yoga studio with lots of natural light and a gardening/watering station.
Take Advantage of Your Attic
Whatever your needs for space in your current Connecticut home, don't overlook your attic for a remodel. You will be amazed how that dusty "unusable" space can be transformed into a space that's comfortable and enjoyable to be in.