Are new home building trends really that important when it comes to building a house? Well, yes and no. First, we need to distinguish between two different types of trends. One kind of trend is in one day and out the other, such as maximalism or biophilia — two interior design trends for 2022 that will likely soon be replaced by emerging 2023 trends.
But true trends in new home construction, on the other hand, are changes in the way things are done. They are a response to the development of new home building technology and best practices, as well as what people now consider important for their homes. This kind of trend tends to stick around. So, let's take a look at the hottest 2022 trends that aren't likely to cool off anytime soon.
Smart Technology
Smart technology is quickly becoming an integral part of the modern household, as illustrated by its prevalence in residential architecture trends for 2022. Like the clean, simple lines of modern design, modern living means streamlining your life by using smart technology to automate repetitive tasks and allow for hands-free control of your devices, among other conveniences.
Nowadays, pretty much anything in your house can be controlled hands-free via smart technology, from your thermostat to home speakers, security devices, lights, and on. You can even spring for a smart home system that can allow you to control all of your home technology from one device. Smart home systems, such as Google Assistant or the Sengled Smart Hub, are powered by artificial intelligence, functioning as a sort of smart technology command center.
Don't go too overboard, though. Technology is one of those areas where the risk of going for what's trendy can get out of hand. If you happen to be an "early adopter" type of person, that may not be an issue. You may enjoy trying out the newest and coolest technology just because you enjoy it. But if you're the type of person who is sometimes overwhelmed by technology, you may want to wait for second or third-generation models of new tech that have more of the bugs worked out. And above all, you'll want to make sure that the technology you choose actually improves the quality of your life.
Multifunctional Furnishings
Spending more time inside the home over recent years has shifted the way homeowners and designers think about functional living. This equates to a rise in the popularity of multifunctional furnishings, such as desks that double as a dining table or furniture pieces that act as storage. You can expect to see beds that are transformed into sofas during the daytime and ottomans that allow people to sit and store things at the same time.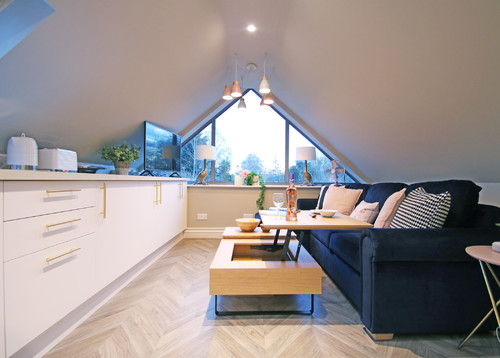 Greener Homes
In 2022, worldwide environmental concerns are being reflected in design trends and construction. Eco-friendly houses built with solar panels, tankless water heaters, better insulation, and sustainable "green" materials are becoming more popular; and energy-saving features are among the top door and window trends for 2022. Click here for a look at 6 steps to creating a greener CT home of your own.
Additionally, homeowners are looking to conserve water and energy by using efficient furnaces, low water sinks, and toilets, plus recycled water that can be used to flush toilets and water the plants. For this reason, water efficiency and energy efficiency are no longer outliers when it comes to new home construction.
This sustainability trend also extends to home design and decor. Vintage decor and furniture are all over in 2022 and thrifting these one-of-a-kind pieces at a local store is one of the most sustainable — and affordable — ways to furnish your home. Plus, having your own collection of unique vintage decor and furniture gives our home more personality!
Indoor-Outdoor Living
This trend, which started a few years ago, continues to be popular. An indoor-outdoor living area looks, feels, and functions just like an indoor living room with furniture, curtains, televisions, and audio systems. For more privacy, some are designed like courtyards, with energy-efficient glass, windows, and doors. Click here for some ideas for additional ways to make use of your outdoor space.
Part of the outdoor living room trend is tied to a design trend that blurs the lines between indoor and outdoor living. One way that homeowners are doing that is through the use of full-length glass doors that telescope to provide a seamless transition between your inside and outside living space.
There's also a growing interest in preparing food outdoors — either through grilling on a BBQ or at a sophisticated cooking station equipped with a refrigerator, countertops, a sink, and a pizza oven. The latest amenities available include a cost-efficient prefabricated kitchen and a hybrid grill, which allows cooking via charcoal, wood, or gas. While they are at it, some homeowners opt to have their own vegetable garden so they don't have to go to the market to buy what they need. There's no "one right way" to create an outdoor kitchen.
Thinking it may be time to update your home? Sunwood Home Builders and Remodelers' intuitive process and dedicated team make remodeling your Connecticut home easy. Get started today.