Are trends really important when building a new home in Connecticut? First, it's important to distinguish between a trend and a fad. Fads come and go. What's popular this year may not be popular next year.
True trends, on the other hand, are changes in the way things are done. They are a response to what people consider important for their homes. Trends tend to stick around. Here's a look at nine of the hottest trends we're observing in the home building industry.
Cutting-Edge Technology
Homeowners are willing to invest in cutting-edge technology that will not only make their lives easier but also allow them to save more. For instance, they'll opt for a single device that can control electronics, security, lighting, and temperature from their iPad or iPhone. This eliminates the use of several controls and enables them to manage their home systems in the easiest and most efficient way. Here's a look at a post that talks about making sure that the technology that you put into your home to make it smart is really a smart choice for you.
Technology is one of those areas in home building where the risk of going for what's trendy can get out of hand. If you happen to be an "early adopter" type of person, that may not be an issue. You may enjoy trying out the newest and coolest technology just because you enjoy it. If you're the type of person who is sometimes overwhelmed by technology, you may want to wait for second or third generation models of new tech that have more of the bugs worked out. And above all, you'll want to make sure that the technology you choose actually improves the quality of your life. If you're looking for helpful, practical technology for your home, you may want to check out CNET's Best Smart Home Devices for 2019. You'll find everything from smart light bulbs, to home security, and even automated window shades.
Water and Energy Efficiency
People will continue to look for the best ways to conserve water and energy in their homes. These include more efficient furnaces, low water sinks, and toilets, plus recycled water that can be used to flush toilets and water the plants. What's great is that water efficiency and energy efficiency are no longer "outliers" when it comes to new homes.
Here's a post that talks about the strides home builders have made in recent years—and what you can expect (and insist on) when building a new home.
More Multi-Purpose Furnishings
As more people are moving to condominiums and houses are becoming scaled back these days, limited spaces will accommodate more multi-purpose furnishings. You can expect to see beds that are transformed into sofas during daytime and ottomans that allow people to sit and store things at the same time.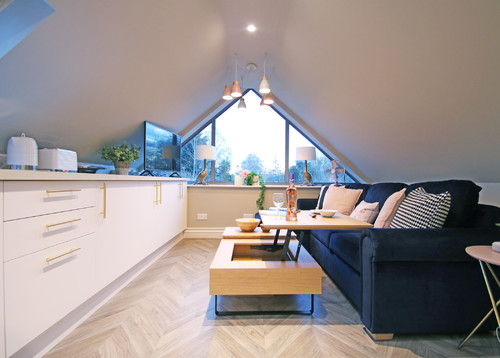 Greener Homes
The worldwide concern for the environment is also reflected in the construction of new houses. Home hunters are more concerned with the sustainable "green" materials that are used like paints, flooring, countertops, and adhesives. They are likewise interested in eco-friendly houses that come with solar panels, tank-less water heaters, and better insulation. Click here for a look at 6 steps to creating a greener CT home of your own.
Neutral Colors
Approximately every five to 10 years there's a shift in home décor colors. Instead of the usual whites, beige's, and creams, the trend nowadays is blue-grays and other neutrals, which are best complemented by a range of yellows. Bright new accents like raspberry pink are preferred over solid red color. When it comes to colors, even trends can change. While you don't want to choose something that will make your home look dated in just a few years. The flip side of that is that you want to select colors that will make you comfortable in your own home. The advantage of neutral colors is that they can adapt easily to brighter bolder accent colors that may change in popularity from year to year.
Enhanced Media Rooms
There was a time (not so long ago) when most homeowners had never heard of a "media room." You might have had a larger television in the family room that the whole family could watch. But today more homes have rooms that are devoted to multimedia entertainment.
People watch television, surf the Internet, stream movies, listen to music, play games, and even check email and Facebook from the comfort of their family room.
Increasing numbers of them have furniture that makes that more comfortable and even add lighting and window coverings that enhance the experience. Of course, having the right TV is a big part of having a great media room. Click here to see CNET.com's review of "Top 4K TV Deals."
If you're thinking about creating a killer media room, don't forget to factor in noise-dampening insulation. It may be great to watch the latest "Avengers" movie with theater-quality sound, but there may be others in the house who want to pursue a quieter kind of activity. Insulation may not be sexy, but it can ensure the comfort of everyone in the house.
If you really want to take your home theater experience to the next level, it's hard to beat the ambiance that an old-fashioned popcorn machine creates. Here's BESTREVIEW's look at their top five favorites.
Outdoor Living Room
This trend, which started a few years ago, continues to be popular. This area looks feels and functions just like an indoor living room with furniture, curtains, televisions and audio systems. For more privacy, some are designed like courtyards, with energy-efficient glass windows and doors. Outdoor living extends beyond just the living room, however. Click here for some ideas for additional ways to make use of your outdoor space.
Part of the outdoor living room trend is tied to a design trend that blurs the lines between indoor and outdoor living. One way that homeowners are doing that is through the use of full-length glass doors that telescope to provide a seamless transition between your inside and outside living space. Here's an example of a home design that shows how this kind of door blurs the line between indoor and outdoor living.
Outdoor Kitchens and Vegetable Gardens
There's a growing interest in preparing food outdoors—either through grilling on a BBQ or at a sophisticated cooking station equipped with a refrigerator, counter tops, a sink and pizza oven. The latest amenities available include a cost-efficient prefabricated kitchen and a hybrid grill, which allows cooking via charcoal, wood or gas. While they are at it, homeowners opt to have their own vegetable garden so they don't have to go to the market to buy what they need. There's no "one right way" to create an outdoor kitchen. Click here for an inspirational look at a large collection of Houzz.com photos that show a wide variety of outdoor kitchen possibilities.
When it comes to vegetables, what are the best things to plant in your Connecticut garden? The good news is that our region is ideal for just about anything you want to grow. Grillo Services in Milford, CT has a post on The Best Vegetables for a Connecticut Garden that highlights some of the best-performing veggies, and they also provide tips that can help your garden succeed.
Quality Over Size—and Value Over Cost
Today, homeowners are more practical than ever. They're paying more attention to building comfortable and convenient homes that include high-tech features than they are in just the size of the homes. They're looking for functionality and lasting quality rather than settling for the lowest price. And they also understand that high price doesn't guarantee high quality. Instead, they focus on the features that enhance their lifestyle—and will hold value over time.
You could easily argue that choosing quality over size and value over cost really isn't a trend. It's something smart homeowners have always done. What adds value to your home? That really depends on what's important to you. While you will want to keep an eye on the ROI (return on investment) of any feature you add to your home, the more important issue is what will make your home more comfortable, convenient, and safe over time?
Another factor to consider when you think about value is that the cost of adding features increases as time goes by. Adding features of enduring value up front means you get the benefit of those features at the lowest possible price. Choosing value over cost may not be a "hot" trend—but it's really a pretty cool thing to do!