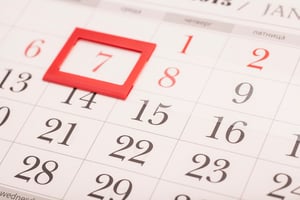 When you're building a new home, it can be hard to contain your excitement, and most new home owners simply cannot wait to go from empty lot to completed home. That's probably why the time frame to build a new home is such a common question. Here are a few things you need to know about things that affect how long your new home will take to build:
Services to the area could be a factor in the time required to construct your home. If your home is going to be in a new community, and the services have not yet been completed, you may wait longer before construction can start. Either choose a home in a community that has services already, or consider going off grid with your new home to get around this.
Permits can take a while to obtain too. Again, if you choose a new home in a community development with standard floor plans and existing permits, this process can take a lot less time.
Once the preconstruction administration and preparation is done, the size of your home will be a factor. The bigger your home is going to be, the longer it will take to construct. In most cases, however, the time to build a new home ranges from a few months to about a year.
The choice of fixtures and finishes for your new home can have a big impact on the time it takes to complete the project. If you choose complicated or hard to obtain items, it can take much longer to finish your home. Likewise, if there are delays in delivering materials and products to your work site, it can delay other parts of the project.
How to Get Your New Home Built Faster?
No one wants to wait a long time to move into their new home. It's only natural that you're excited and want to take possession as soon as possible. Here are a few things you can do to make the process smoother and faster all round:
Choose planned communities when possible. The preparation and administrative headaches will have been taken care of ahead of time, which saves a lot of time.
Remember the bigger the floorplan you choose and the more changes you want, the more time it will take to build your home.
Make design choices as early as you can, so that materials and equipment can be ordered early. Many projects are delayed because these decisions were delayed early on, and then construction has to halt while deliveries are awaited.
Ask your builder for a project program early on. They should be able to break down the project plan for you, so that you have a better idea how long the various elements will take.
Even though it's tempting to follow the process of building very closely, try not to ask too many questions or request too many updates or changes. Your builder will get more done if they just get on with the building process. They will contact you if there's a problem.
Home building takes time, because there's a high level of technical skill, attention to detail and quality management involved. If you want a great end product however, it's always worth the wait.