Tips for Overseeing the Construction of Your New Home in Meriden CT
If you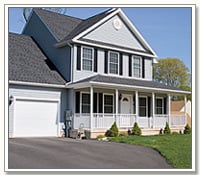 are having your own new home built to a custom design, you will be in charge of a very large and exciting project.
Having a custom home made for you is a huge project and it takes a lot of time and effort. You will need to speak to many different people, such as the architect who designs the home and all of the builders, contractors and tradesmen who construct it. In most cases, the company that offers custom homes will take charge of most of the responsibilities. Here at Sunwood, we handle all the details so you don't have to worry.
Choose a Good Company to Work With
The very first step is to choose a reliable and trustworthy company to work with to complete your new home. This will make a huge difference in the quality of the product as well as the ease of the building process along every step of the way.
You should look for someone who has many years of experience building properties and can show you positive testimonials from many other satisfied clients. Ask them for their credentials and for written guarantees. You should also check that they have third-party property and injury insurance as well as legitimate licenses and registrations.
Communication is Key
One of the most important things when your new home is being built is keeping a clear line of communication between you and the builder. From the very beginning you should tell the company building your new home exactly what you want and express the details of the project to them.
Be Informed
You should be as well informed as possible about the steps involved in the building process. You will want to understand why the builder is doing what he is doing and be able to question him if they are doing something which doesn't make sense to you.
However, you should also remember that custom home builders will have many years of experience and most of the time you will be able to trust their judgement in selecting the materials, planning the construction and selecting subcontractors. However, as the owner you have the responsibility to review the project periodically and approve of all decisions.
Be Patient
Ideally a new home project will be carried through without any problems, but nothing is perfect. There is always a chance that the project will be delayed by bad weather, material shortages or other issues. You should be prepared for potential delays and be able to manage a change in plans. You might want to have an alternative plan in this situation.
When you choose us to build your new home, we will strive to work together with you to create the house of your dreams.