9 Things to Do This Spring in CT to Break the Cabin Fever
This time of year, cabin fever at home is at an all-time high. The days are slowly growing warmer and you're probably itching to get out of the house. Spring break is the perfect opportunity!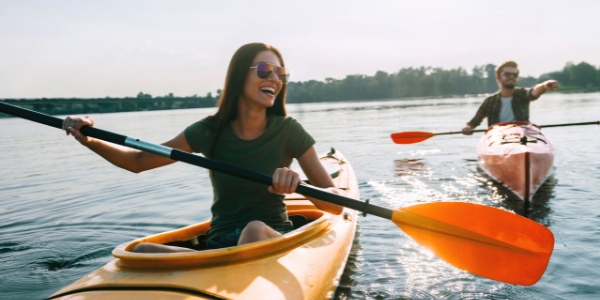 There is no shortage of things to do in Connecticut in April; and as a team of Connecticut locals, Sunwood Home Builders and Remodelers has an inside scoop on where you can find spring break fun, relaxation, entertainment, and engagement. Whether you're new to the state, looking for a Connecticut home, or just visiting, you're sure to escape the house and have some fun with these springtime activities!


Seek Out Adventure
You can find outdoor adventure in Connecticut pretty much anywhere you look. Satiate your inner adrenaline junkie and nature lover amongst the Connecticut spring scenery with these outdoor escapades:
1. Explore new heights
Whether you want to sail through clouds or traverse the treetops, Connecticut has all the high-flying adventures you've been craving. Get an aerial view of the spring landscape by skydiving, floating in a hot air balloon, or at the Lake Compounce Amusement Park; zipline and climb through the forest at the IT Adventure Ropes Course, The Adventure Park, or Thrillz High Flying Adventure Park; or challenge yourself with aerial yoga or acrobatics classes at one of our state's many studios.
2. Enjoy the outdoors
Rather experience Connecticut's natural beauty from the ground? You have plenty of options! Explore Farm River State Park in East Haven, Mattatuck Trail in Wolcott, or any other hiking trail you find. Then, spend a day on the beach swimming, horseback riding, kayaking, or trying out other Connecticut shortline activities.
3. Get active
Seek out extreme sports like indoor or outdoor rock climbing, go racing, or monster truck driving — you could even try hoverboarding!
Indulge Yourself
While adventurous activities are certainly one remedy for shaking off cabin fever, living it up can be just as effective! This spring break, treat yourself to good food, evenings of fun and entertainment, relaxation, and anything else you want to indulge in.
4. Follow the food
(or refreshments)
Connecticut is home to a multitude of wineries and breweries. You can visit any one of them to find great refreshments or, for a more expansive experience, survey the Connecticut countryside on the Connecticut Wine Trail. Once you've had your fill of refreshments, sit down to sample award-winning cuisine.


5. Give yourself a gift
Pick up a trinket or two while strolling through the shops and streets of quaint Connecticut shopping towns. These unassuming towns host a variety of artisans, boutiques, and historical markers that are sure to catch your eye and make you take a closer look. Or, if you want to go for a full-on shopping spree, visit a shopping mall or outlet.
6. Have some fun
Everyone has their own definition of fun, so find what's right for you. Spend a day under the sea in the Mystic Aquarium; lose yourself in Wadsworth Atheneum, the country's oldest public art museum; catch a show or take a risk at the Foxwoods Resort and Casino; or check out a spring festival.

Learn Something New
In addition to good times and great food, there's also an endless variety of places to visit and things to see in Connecticut. Check out some of the state's most prominent museums, historical sites, and more!
7. Explore museums
Looking for things to do on a rainy spring day in Connecticut? Escape the weather and learn a thing or two at the Connecticut Science Center, Aldrich Contemporary Art Museum, or the Mashantucket Pequot Museum and Research Center.


8. Fascinate the whole family
There are plenty of things to do with kids in Connecticut. And just because it's spring break doesn't mean your kids have to stop learning. Keep their minds engaged at family-friendly venues, like The Children's Museum in West Hartford — you can even participate in a dino egg hunt at The Dinosaur Place in Oakdale!


9. Visit historical sites
Want a taste of the local history and architecture? Tour the Mark Twain House, The Glass House, the historical Mystic Seaport village, and other historic sites. Yale University is also worth a visit. Established in 1701, it's one of the oldest universities in the country. Check out the campus with a tour or attend a university performance or event.
With such a wide variety of activities, beautiful scenery, amazing food, and wonderful people, Connecticut is the kind of place that makes visitors want to stay. So, if you're considering a move to Connecticut, you're not alone. Since 1985, Sunwood Builders and Remodelers has assisted many families in their move to the nutmeg state, helping them find new homes or lending our remodeling services to update old ones. Learn more about Connecticut homes or get started today.