14 Best Fall Foliage Outings to Take in CT
Autumn in Connecticut is a whirlwind of color. Gaze into the rolling landscape, and you'll find innumerable varieties of red, orange, yellow, green, brown, and blue — a feast for the eyes and the senses.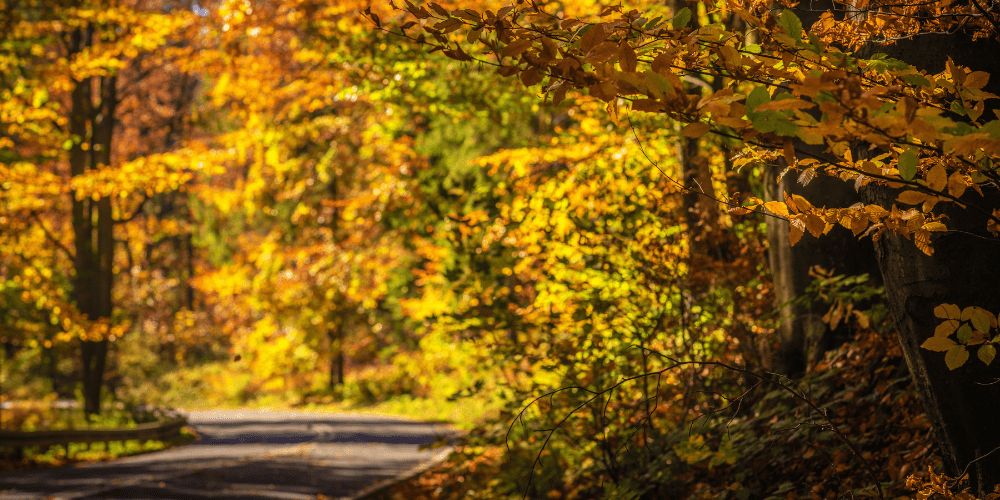 The only issue with having so much fantastic Connecticut fall foliage around is figuring out where and how you want to experience the season. Since leaf peeping is one of the favorite fall activities in CT, today, Sunwood Development is exploring the best fall foliage destinations around the state.


When to View Foliage in Connecticut
Before we dive into where to go, let's pump the brakes and contemplate when to go. After all, catching a fall forest in full glory is all about your timing; there's a very short window before that gorgeous forest becomes barren.
Sometimes Mother Nature gets in a rush, and sometimes she delays things — just to keep us on our toes. In general, however, here are some dates to keep in mind if you want to catch the foliage in Connecticut at the right time.
Connecticut Northwest/Northeast Corners: October 9 – 16
Connecticut Eastern and Western Mid-State Counties: October 17 - 25
Shoreline and Lower Connecticut River Valley: Late October to Early November
Suppose you're more of a visual person (and want an up-to-date report on conditions). In that case, you may want to check out this interactive Connecticut Fall Foliage Map courtesy of the Connecticut Department of Energy & Environmental Protection (DEEP). It is color-coded to indicate very low, low, moderate, peak, and past peak times for viewing. It also lists scenic views, hiking locations, and fall foliage driving routes (which we'll review below).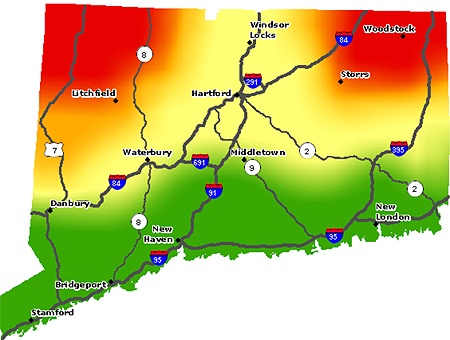 Where is the Best Fall Foliage in Connecticut?
If you love getting active, fall hikes and scenic drives are two of the most fun things to do in CT for couples, families, and individuals.
Let's review where to find the best fall foliage in CT, whether driving past or immersing yourself in the middle of the wilderness.
Hiking Destinations
We'll start with the best fall hikes in Connecticut. Each park on this list offers a scenic overlook (or two) you can hike up to and get a birds-eye view of the fall colors.
1. Macedonia Brooke State Park, Kent
Follow the blue trail markers for a trip through the forest. You'll hike past Hilltop Pond on your way up to Cobble Mountain (switch on to the white trail to get here) and other peaks for outstanding views of the Catskill and Taconic mountains — what better place for splendid foliage viewing?
2. Mohawk State Forest, Cornwall
Switch up your elevation, and experience the fall colors from below by visiting the black spruce bog at Mohawk State Forest. But if marshes aren't quite your thing, don't worry! The park has scenic vistas to the north and west, offering views of the Catskill, Taconic, and Berkshire ranges. The Mattatuck and Mohawk trails (blue-blazed) cross the site for your hiking pleasure. There are also two observation towers along the path where you can get an even better vantage point.
3. Pachaug State Forest, Voluntown
You're sure to see plenty of beautiful sites in the 26,477 acres of the state's largest forest. You can visit two areas within the forest: the Chapman Area and the Green Falls Area. Both offer sprawling maps and extensive trail systems for your adventures. You may even see a few equestrians along the way — just look out for horse droppings! We recommend visiting Mt. Misery Overlook in the Chapman Area (follow the Nehantic and Pachaug trails to get there) for a stunning view.
4. Shenipsit State Forest, Somers
Wind your way up Soapstone Mountain along the blue-marked Shenipsit Trail to the Soapstone Mountain observation tower. The tower is one of only two in Eastern Connecticut and allows visitors to marvel over the sublime landscape.
5. Sleeping Giant State Park, Hamden
This park gets its name because the mountainous landscape actually looks like a sleeping giant! From the entrance lot, take a gravel path one-and-a-half miles to the Stone Tower, where you'll have a 360-degree panorama looking south to Long Island and north past Hartford. For additional hiking, Sleeping Giant has 30 miles of trails that form the giant's 'head' to his 'left knee' and 'right foot.
6. Mt. Tom State Park, Litchfield
Take a trip through one of the state's oldest parks. Embark on a leisurely one-mile hike up Mt. Tom to a stone tower 1, 325 feet above sea level, for optimal fall foliage sights.
7. Dennis Hill State Park, Norfolk
Pack a picnic and eat lunch at a summit pavilion 1, 627 feet above sea level. Your trek will be rewarded with a panoramic vista of New Hampshire, Vermont's Green Mountains, and more.
8. Goodwin Conservation Center, On Route 6 in Hampton
View autumn colors reflected in the water of Pine Acres Pond from the wildlife-watching platform (wheelchair accessible). You can also walk through the canopy along one section of the Air Line Trail in the Goodwin State Forest.
Scenic Drives
Of all the things to do in Connecticut in the fall, a winding drive through the countryside may be one of the most rewarding. Trust us; it's worth spending the extra gas!
Here are the top five foliage driving routes listed by the DEEP: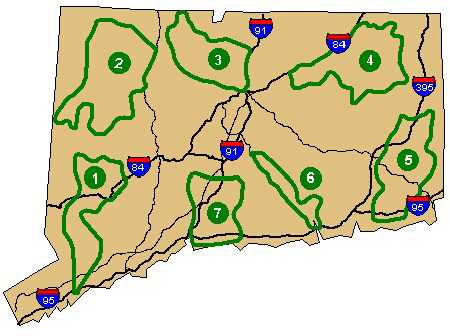 9. Loop #1 Scenic Fairfield - (Approximately 115 miles)
Begin in Norwalk at Route 15 (Merritt Parkway) exit 38.
Go north on Routes 123, 106, 33, 35, and 7 to I-84 exit 3 in Danbury.
Then head east on 84 to exit 5.
Take a left on Starr Ave.
Quick right onto Cowperthwaite St.
Quick right to North Main Street.
Sharp left on Golden Hill Road to Route 39.
Go north on Routes 39 to 37 to Route 7.
Take 7 to New Milford.
Go south on Route 67 to Roxbury, then Route 317 to Woodbury.
From Woodbury, take Route 6 south to I-84 exit 15.
Jog west on 84 to exit 10, then southwest on Routes 6, 25, and 302 to Route 58.
Head south on 58 and 136 to Route 15 (Merritt Parkway), exit 42, and head for Norwalk to close the loop.


Loop #2 Traditional New England - (Approximately 100 miles)
Begin in Torrington.
Go north on Route 8 to Winsted, then northwest on 44 to Canaan.
Turn south on Route 7 to Kent, then east on 341 to Warren, and south on 45 through New Preston.
Go east on Route 202 for about a mile, then turn south on 47 to Washington Depot.
Turn northeast on Route 109 to East Morris, then north on Route 63 to Litchfield.
Head east on 118 for a few miles, then north on Route 8 to close the loop.
10. Loop # 3 Hartford West - (Approximately 90 miles)
Begin in Hartford.
Take 1-91 north to exit 45 (Bridge Street, East Windsor).
Head west on Route 140 to the airport, then south on 75 to Route 20.
Head west through Granby, the Hartlands, and Riverton, picking up West River Road south through People's State Forest to Pleasant Valley.
Continue south on Route 181 to Route 44 and head east through New Hartford, Canton, and Avon to Route 10 — south to Farmington.
Pick up Route 4 and head for Hartford to close the loop.


11. Loop #4 Yankee Roots - (Approximately 100 miles)
Begin on I-84 exit 67.
Go south on Route 31 to the junction of Route 44.
Take 44 east to Route 195.
Turn south on 195 to Route 6 and turn east to Brooklyn.
Pick up Route 169 north to North Woodstock, then go west on Routes 197 and 190 to I-84 exit 73.
Turn west to close the loop.
12. Loop #5 CT Heritage - (Approximately 90 miles)
Begin in New London.
Take I-95 north across the Thames River to left-hand exit 86.
Go east on Route 184 to Old Mystic.
Take Route 27 south to Mystic.
Go east on Route 1 to Route 2, then north on Route 2, 184, and 49 to Route 14A to Canterbury.
Head south on Routes 169 and 2 to Norwich, then take Route 32 south to close the loop at New London.


13. Loop #6 Connecticut River Gateway - (Approximately 80 miles)
Begin at Middletown.
Go south on Route 9 to exit 10.
Take Route 154 south to Route 148, then head east to a ferry boat crossing. (Note: ferry season in April - November; alternate crossing is the I-95 bridge between Old Lyme and Old Saybrook.)
From the landing, continue east on 148 and 82 to Route 156, then turn south to I-95.
Cross the river on 95 to exit 69.
Head north on Route 154 to Route 82 and re-cross the river at East Haddam.
Continue east to Route 151 and turn north to Cobalt.
Turn left on Route 66 and close the loop at Middletown.
14. Loop #7 New Haven & Neighborhood - (Approximately 70 miles)
Begin in New Haven.
Take I-95 north to exit 51
Pick up Route 1, then 146, and continue east to Guilford.
Turn north on Route 77 to Durham, then north on 17 and west on 147, 157, 68, and 70 to Cheshire.
Take Route 10 south to New Haven to close the loop.
Enjoying Fall from Home
Getting out for a fall trip is fun, but there's no better place to enjoy the season than from the comfort of your own home surrounded by friends and family.
However, if your house is less than ideal, it can sap the joy from even the most beautiful of seasons. Address your issues with a home remodel. You can expand with an addition, improve flow with an altered layout, improve your connection to nature by adding extra windows and an outdoor living area, and so much more with the right remodeling team.
Contact Sunwood Development to start your home transformation today.