10 Central CT Breweries to Explore This Fall
What's better than a fall drive through the color-soaked landscape of Connecticut? A fall drive with a smooth, refreshing beer waiting for you at the end!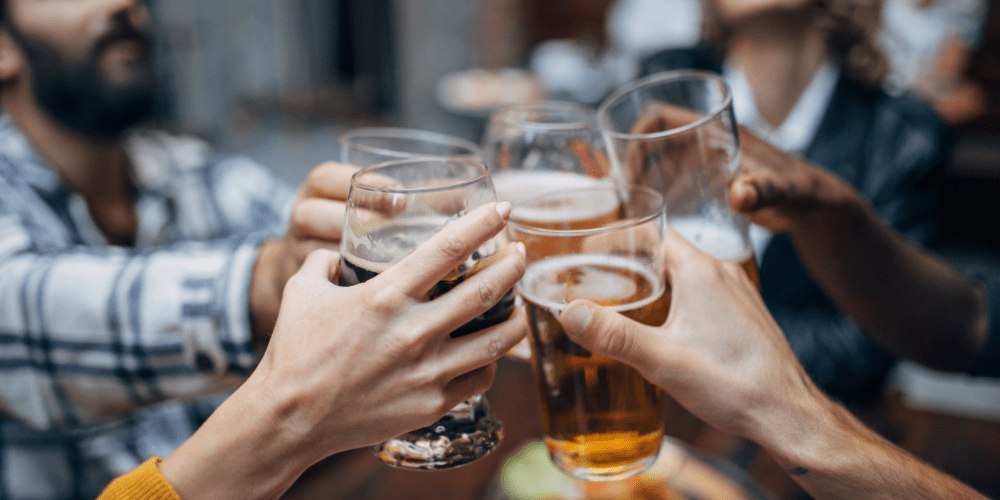 Enjoy the scenery and the best of local ales by traveling along this two-hour CT beer trail loop brought to you by Sunwood Home Builders & Remodelers. Start at East Hartford and travel along Interstate 91 before switching on to Route 9 to admire the Connecticut River in Middletown. Then take Route 66 to Route 5 down to Wallingford and head back up to New Britain on Routes 15 and 5. Finish back where you started in West Hartford, having had your fill of delicious food and brewskis!
The Sunwood Beer Loop: Best Breweries in CT
Technically, you can start at any point along this loop and end up right back where you started in a few hours. But, for the sake of this blog, we're starting the loop in East Hartford and ending on the city's west side.
Start Point: East Hartford
Begin your quest for Connecticut's best beers at the City Steam Brewery at 942 Main St. The historic 1870s brownstone building alone is enough to make the visit worthwhile, let alone the great beer! This classic bar offers over a dozen handcrafted beers on tap, including their most famous brew: the Naughty Nurse, a spiced ale. With three stories, a full restaurant, a game room (equipped with pool tables, corn hole sets, and arcade games), and a comedy club aptly named Brew Ha-Ha, there's no shortage of good drinks and good times at this brewery!
Next up is the nearby Colt Taproom of the Thomas Hooker Brewery. At 140 Huyshope Ave., this isn't the brewery's primary location (that's nearby at their production facility in Bloomfield), but the Colt Taproom has just as many beers on tap: over 20! They also offer wine and cocktails if you have some members of your party that aren't beer lovers.
Middletown
The flagship location for Powder Hollow Brewery is in Enfield, but their Middletown location is an entirely unique experience. Experimenting with a new pilot brewing system, the Powder Hollow Brewery at 62 Washington St. in Middletown boasts a wide variety of in-house-only creations. Enjoy your refreshments in the autumn air at their 100-seat indoor and outdoor bar area.
Just five minutes away at 180 Johnson St. is Forest City Brewing. Snag a hot pretzel or landjäeger (a traditional German sausage) to snack on and get your beer on! If you find a brew you can't leave without, take a 64-ounce growler home with you.
Wallingford
This nano-brewery started as a hobby in the basement of Founder David Durant but quickly grew into a business located in the heart of Wallingford at 16B Center St. The brewery offers eight unique brews, the best of their beer experiments.
Though the name may make it sound like the kind of place where two seniors sit in a rocking chair sipping beers and watching the traffic roll by, this funky establishment has spunk for days! Delicious beers and unique, artful merch await you at 226 N Plains Industrial Road.
New Britain
On your drive up Route 5 towards New Britain, stop on the way at Coles Road Brewing at 817 Farmington Ave. in Berlin. This small, family-owned business has a list of all their current brews online where you can even order beers to go.
This brewery at 365 John Downey Drive pays homage to New Britain's town mascot: bees. With one-of-a-kind honeycomb lights hanging overhead and a viewing area where you see the brewmasters at work, Alvarium Beer Company has a unique atmosphere. Beyond beer, their sister company, Alvarium Roasting Company, creates delicious, ethically-sourced coffee. They also frequently host food trucks and let patrons bring their canine friends into the brewery — just no barking allowed!
End Point: West Hartford
A few more miles and you'll find yourself right back where you start (well, almost). New Park Brewing at 485 New Park Ave. currently has eight beers on tap. Order pizza pies or salad from Patty's, kick back, and relax. After all that driving, you deserve it!
Before you wrap up, check out Hog River Brewing at 1429 Park St. on the capitol's West side (the entrance to the brewery is actually on Bartholomew Avenue). This husband-and-wife-run business welcomes you to bring your own food inside or order delivery from the Parkville Market, with offerings like Brazilian Gula Grill and Randy Wooster's Street Pizza. Stop by on a Thursday evening for Trivia night, Friday for live music, or Sunday for some laid-back jazz.
Since many of these breweries are closed early in the week, we recommend embarking on your beer escapades on Thursday, Friday, or the weekend. Have fun traversing this local loop — and please drive responsibly!
A Reminder From Your Friendly Local Home Builders
Though you may be busy exploring all the fun to be had in Connecticut this fall, don't forget about taking care of your home too! Fall is a critical time for home maintenance and remodeling.
If you need help getting the job done, contact Sunwood Development. We take care of your home, so you can do more of the things you actually enjoy!