4 Places In the Home For a Mother-in-Law Apartment
There is a remodeling trend that has been steadily growing for a number of years—and it has nothing to do with colors, countertop materials, or open any of the things we normally associate with home design. This trend is all about creating space in the home for extended family members—whether it's aging parents moving in with their grown children or adult children who are living at home while beginning their careers.
According to the Pew Research Center, in 2016, a record "64 million people, or 20% of the U.S. population, lived with multiple generations under one roof".
One option for addressing the need for more space when and additional family member moves in is to simply add on to the existing house. In addition to being a potentially expensive choice, it's sometimes not really an option at all. What if your local codes (I'm talking about things such as set backs from property lines, or maximum height of houses) won't allow you to expand out or up?
An alternative to expanding your home may be to better use the existing space inside your home—creating a comfortable living space in an under-used area of your home. Where can you find that space? Let's look at 4 places in your home you where you could create a Mother-in-Law apartment.
Remodel Your Basement
Many homes have an unfinished basement that's rarely used for anything except storage or laundry. If that describes your home, consider turning your basement into a pleasant apartment. If you have a walkout basement with its own access to the outside, this can be an ideal solution since there would be no stairs to deal with if you're accommodating an older family member. Depending on the size of your basement, you may be able to add a living room, a separate bedroom, a bathroom, and even a kitchenette. You can provide a self-contained living space that provides security and privacy. It's a great way to add square footage to your home without the expense of putting on an addition.
Transform Your Garage
Your garage can be a great place for a mother-in-law apartment. You'll want to check the zoning requirements in your area before you jump into renovations as some areas allow this kind of use and others don't. You'll also need to consider adding insulation and heating/cooling to the garage to make the space more comfortable.
Plumbing constraints may prohibit you from adding a bathroom or a kitchen to this space—but you could still have a comfortable bedroom and sitting room or family room. Another option might be to turn the garage space into your family room—allowing you to use interior space for an in-law apartment. And, of course, you'll need to consider where you will park your cars.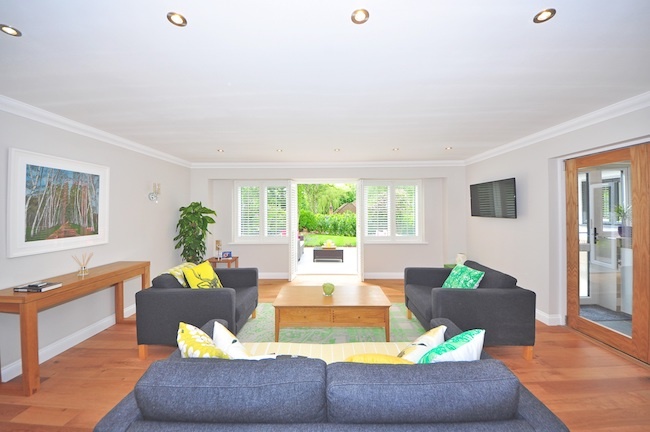 Improve Your Attic
Some homes—especially older ones—have a roomy attic that is only used for storing a few boxes. With a bit of imagination (and the help of a creative builder/remodeler) you can turn that wasted space into comfortable and attractive living space.
With the addition of some windows, an attic space can be a bright, cheery apartment. Again, you'll need to consider your insulation needs and how to run plumbing to the area. An attic apartment may actually be a better solution for an adult child living with you (due to the stairs).
Alternatively, you could move another family member into that space (an older child), and turn the vacated room into a bedroom for an aging parent.
Click here for some additional ideas on how to transform your attic into usable living space.
Renovate an Entire Floor
If you happen to be "empty nesters" you might choose to renovate an entire floor in your home and turn it into a mother-in-law apartment. One advantage to this is that you provide private space for your aging parents and help them retain some independence. It means they have their privacy when they want it and still have the security of not being totally alone. Another advantage is that you can easily work with existing plumbing and other amenities to create a comfortable, spacious apartment with its own bathroom and kitchen. The location of the apartment (which floor it's on), of course, will depend on the mobility of your parents.
The point of all of this is that you may have unused potential in your home. If you have older parents who are no longer comfortable living on their own, you may be able to come up with a solution that serves them—and you—within the comfort of your own home.