In recent years there has been a trend toward locating Master Suites in new homes on the main (or first) level. There are some pretty compelling reasons for this trend (and it's a trend that doesn't seem to be going away). But is locating your Master Suite on the first floor the right move for you? Let's take a look at the pros and cons of first-floor master suites. Then you can decide for yourself.
Why a First-Floor Master Suite May Make Sense
Even if you don't initially use your main level Master Suite as your main bedroom, it still may make some sense to opt for that kind of plan. First-floor master suites are becoming more and more popular as homeowners decide to stay in their homes for longer periods of time.
It Makes a Great Guest Room: A master suite (bedroom and bath) can be a great guest suite if you frequently have friends or family that visit. A master suite provides both comfort and privacy for your guests. It's more relaxing for them and for the rest of your family if you all aren't sharing a bathroom.


Caring for Aging Parents: You may be in a situation where you are expecting to have an aging family member living with you in the foreseeable future. A main-level suite is an ideal arrangement because it allows your in-laws or relatives to feel like part of the family—while maintaining some privacy of their own. It also takes stairs out of the equation for someone who may have mobility issues.


Easy Access: A first-floor master bedroom can also be ideal for any family member with a disability or for someone recovering from surgery or an injury. Again, it allows you to eliminate the problems stairs can cause


Distance from Older Children: Parents of older children (i.e. teens) often appreciate the idea of putting some distance between themselves and their increasingly louder offspring. Older kids also appreciate the independence that this kind of arrangement enables.


It Can Be An Ideal Home Office: Increasing numbers of us are working from home—either full-time or part-time. Having a suite on the lower level can be an ideal location for a good-sized home office with its own bathroom. Close the door and you can work undisturbed by the rest of the family.


Your Future Needs: Your needs may change in the future. Stairs may be no big obstacle for you now, but what about 10 or 20 years from now? An increasing number of homeowners want to remain in the own homes as long as possible.

Having a master bedroom on the first floor is ideal for aging in place—being able to remain comfortably in your home without having to deal with stairs. It allows you easy and safe access to the rooms you'll use every day (kitchen, family room, laundry, garage). If you're considering a home that you plan to remain in as you mature, a first-floor master bedroom or suite is definitely something you should be considering.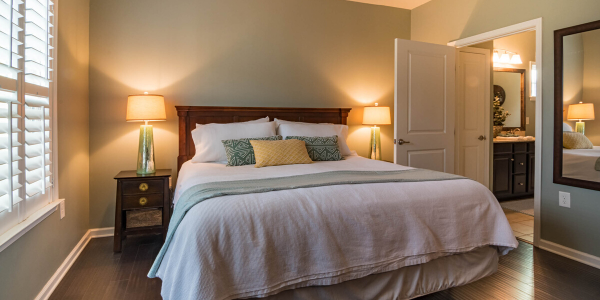 When a Main-level Master Suite May NOT be Ideal
While there are plenty of advantages, there may be some situations in which locating the master suite on the main level might not be ideal. Let's look at a few of situation for which a main-level suite isn't ideal.
Close Proximity to Common Rooms: A first-floor master bedroom will be closer to common rooms that are used for entertaining. If someone wants to turn in early to rest or sleep, that can make it hard to ensure peace and quiet in the bedroom. This can be an issue if you or your spouse keeps odd hours (i.e. for couples where one works night shifts or in emergency services with constantly varying hours). You may find that if your spouse or older kids want to entertain guests that activity can interfere with your sleep.


Distance from Younger Children: If your family has very young children you might find a main-floor master bedroom awkward. Even if you have monitors in the kids' rooms, someone will end up running up and down stairs to check on the needs of younger family members.


You May Simply Prefer a One-level Plan: If you're looking to downsize somewhat, you may simply prefer a home with less square footage. You may not want to heat, cool, and maintain two levels.
Choosing the Best of Both Worlds
The pros and cons of a main-floor master are definitely related to your specific lifestyle. It's always wise to think about how your family will use the various spaces in your home before deciding on a specific plan. In an ideal world, your home would be designed to accommodate your needs at every age and stage of your life. But the design that fits your needs best now might not be the ideal choice in 10 or 20 years. That's why it's so important to choose a floor plan that can adapt to your evolving needs. That includes the location of your master suite.
The plans in our new Magnolia Ridge community provide options for both single-level floor plans and two-story options. You may want to consider a plan (such as the Emerson Ranch ) that offers single level living throughout the home. Or, you might opt for a plan like our 4-bedroom Cedar Colonial that has the Master Suite upstairs but also offers a Flex room on the main level that could be a guest room or a home office.
Consider your family's needs now and in the future, and choose your floor plan accordingly. If that means having a master bedroom on the second floor and a guest suite that you can convert on the first, then that's also a good choice. Talk to your realtor or homebuilder, get all the options and decide accordingly.