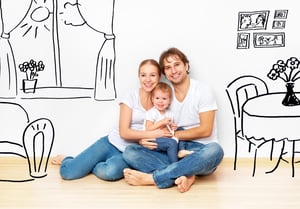 Most people realize that not all homes are created equal. Some are starter homes, just meant to get your foot on the real estate ladder. Some are lock-up-and-go units, meant to be used by young jetsetters and downsizing seniors who want a simple, no-fuss, low-maintenance lifestyle. Some, however, are forever homes. The kind of home where you can picture yourself raising a family, entertaining grandkids and growing old.
Wondering what kind of design features you should be considering in a new custom home or as additions or renovations to your existing home? We've got a few great ideas to help you figure it out.
1. Consider Current and Future Needs
When you're designing a new home (or planning a major remodel or additions), think about your needs now, in 10 years, 20 years and so on. The additional bedrooms you're considering might be necessary now, but what about in a few years? Can they be converted to an in-law suite? A home office? A rental apartment?
Also think about features like hallways and stairs. Wider spaces are great for strollers and herds of kids, but they're also easier for older people. Avoiding changes in levels (no sunken living rooms, please!) is another great idea if you plan to grow old in your home.
2. Choose Easy-to-

Use Fixtures and Hardware
While it's likely that you might change out a few things over the years you're in your home, certain fixtures and hardware are easier to use at all ages and stages. For instance, lever-type door handles are easier to use for kids, when you're carrying grocery bags and when you have older hands. Likewise, paddle-style faucet handles can be more practical than round styles. Choose D-shaped door and drawer handles, and opt for a walk-in shower in at least one bathroom, rather than a shower/tub combination.
3. Make Your Main Floor

a Livable Space
No matter what you do with the rest of your home, when you're designing a forever home where you can age in place, make sure that you add a full bathroom and a room that can be used as a bedroom on the main floor. Navigating stairs is one of the most difficult and risky tasks for older people, and a livable space on the main floor is also helpful if you or someone in your family has surgery or another temporary mobility issue.
4. Budget Accordingly
If you're only going to be in your home for a few years, it doesn't make sense to break the bank on design or upgrades. If you're going to be in your home for 30 or 40 years, however, you're better off spending a little more to get exactly what you want. Make sure you know where you stand and that you will get your money's worth out of any upgrades you choose to make.
5. Choose Classic Over Trendy
Remember grandma's house, with the "authentic" '60s décor? Too much orange, brown and wood paneling, right? That's exactly what you don't want for your home, and that's why – no matter what you choose in terms of long-term functionality for design – you want to choose classic décor and design options.